Appleton
Delivery Service
Near Me
 Get the best and most reliable same day delivery and junk disposal service in Appleton, WI. Book our junk removal and disposal professionals now.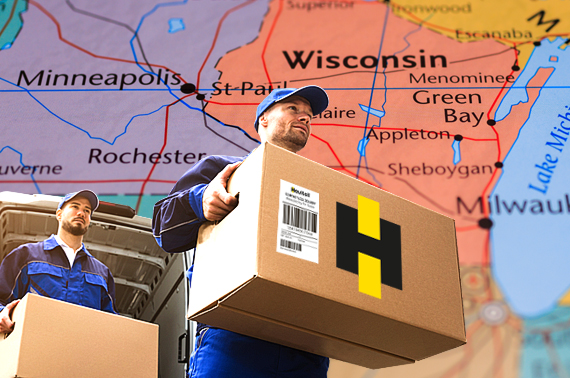 Appleton, WI is a small town of just over 75,000 people. Located near the Fox River, it is a North Western suburb of Appleton, with Menasha and Little Chute nearby. Appleton is the most populous city in Outagamie County and the county seat. Some of the places to visit in Appleton include the Paper Discovery Center, Xperience Raceway, Fox Cities Exhibition Center, Mile of Music, Heritage Hill State Park and Radisson Paper Valley Hotel. As you can see, there is no shortage of things to do in Appleton.
Incorporated in 1846, Appleton became a factory town for paper mills, clothing makers and other manufacturers. Appleton lies within Wisconsin's 5th congressional district in the U.S. House of Representatives. The Appleton Area School District, which is based in Appleton, Wisconsin, serves Appletree. The district's three main public high schools are Appleton East, Appleton North, and Appleton West.
People of Appleton, WI can now use Haultail® same day pickup and delivery service to send out their items. Over the past several years, we have helped our customers deliver their items safely and on time so now it is our pleasure to now serve the city of Appleton, WI. All you have to do is, order a delivery job on the Haultail® app and we bring the items to you and pick up your order. We have different types of vehicles for both kinds of jobs.
Not just on demand delivery, we also take care of all types of junk disposal needs. Whether you have old furniture, construction debris or general junk that needs to be cleared out of your way, Haultail® can help. You can schedule a time for us to come pick up your items and we handle the disposal from there. And we do your junk removal between 6 am to 9 pm. Our rates are affordable and we have a courteous staff. We have all size vehicles to handle any size project. We can always help you out with your urgent jobs and get them done quickly, even on holidays.