Atlanta
DELIVERY SERVICE
NEAR ME
Are you in a situation where you need something delivered to you but quickly? Whatever item you need, whether it's a document or a small parcel, grocery, or furniture, Haultail® is now in Atlanta and at your service. Our on-demand delivery app is so easy to use that it is suitable to both busy personal and companies who are looking for a simple, clear, and flexible solution to delivery issues.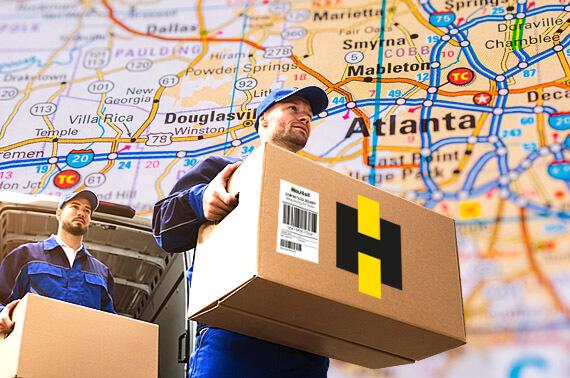 At Haultail®, we thrive on comfort and peace of mind more than anything else. Our delivery technology connects you to our talented and trained drivers at the click of a button. With our online support and uncomplicated phone app, you can book, manage and track your deliveries in real-time and communicate with the drivers, and also pay for your service all at the same time.
From essential goods to storage moves, Haultail® can manage all that, and when you're in need to get your deliveries faster, Haultail is right here and they're here to stay.
Atlanta city is be known for scorching weather and as home to the world's busiest airport and holds multiple historic sites and attractions, energetic nightlife, and a diverse range of activities for families and kids alike. The Hotlanta, as it's famously known, is also famous for its eateries and brags of the largest drive-in fast-food restaurants in the world that serve the most delicious and popular dishes.
This charming outlook of Atlanta has attracted many migrants and students alike, who come here to make it their home and many among them have identified with the strife with transport and courier services. Now with Haultail putting its foot firm in the city, all your courier needs can be met with a single click on your phone.
If you have listed your item online and need it delivered to the buyer, there's Haultail®.
Or if you bought something online need it delivered to you, there's Haultail®.
You have daily needs of groceries or furniture needs to be transported across the city, there's Haultail®.
Moving essential documents or packages across towns, remember Haultail®.
Whatever your need is, there's Haultail®.