BALTIMORE
DELIVERY SERVICE
NEAR ME
Now, get the most out of Haultail®'s on-demand delivery service in Baltimore, MD. With just a few clicks, you can now schedule a pickup, delivery, and junk disposal anywhere within the city and get the job done on time.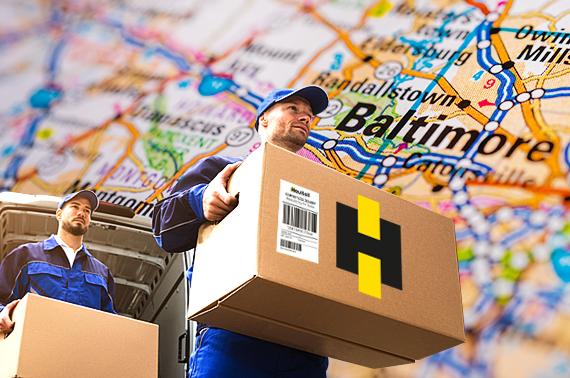 Baltimore is a city in Maryland, United States. Baltimore is very unique because it has many landmarks such as the National Aquarium and the B&O Railroad Museum. People also come to this city to visit Edgar Allen Poe's final resting place and many other tourist places. Baltimore is a great city with many things to see and do. Founded in the year of 1729, Baltimore has grown into a very special place. Even though it's such an old city, the people of Baltimore are always trying to improve and be on top.
Baltimore has many educational institutions such as the University of Maryland – Baltimore, the Loyola University – Maryland Campus, and Baltimore City Community College. This is a place where students come to study hard so they can improve their grades and learn as much as they possibly can. There are also many nice parks such as Fort McHenry National Monument and Historic Shrine and Patterson Park. These places give kids and adults a nice opportunity to break away from their busy schedules and just relax.
For any type of junk removal or cleanup in Baltimore, Haultail® same-day trash removal is always there to help. They will take away any type of trash from your residential or business property within 24 hours. You can create a trash disposal job on our app within minutes and one of our junk removal experts will be there as soon as possible. From construction debris to yard waste, we can haul it all. Plus, our assigned driver will do the heavy-duty lifting for you, so all you have to do is a point and it's gone.
We also offer on-demand pickup and delivery services in Baltimore, MD. Our delivery services include furniture, appliances, documents, etc. If you have purchased a new item from Craigslist and you need someone to transport it to your place, Haultail® is here for that too. We offer the lowest rates in town so there's no point in looking elsewhere – thanks to our business model where we are able to allocate the closest and most suitable driver to your destination at an affordable cost!