BENTONVILLE
DELIVERY SERVICE
NEAR ME
Haultail® offers last-mile delivery and junk removal to Bentonville residents and businesses at reasonable prices making it affordable for the users.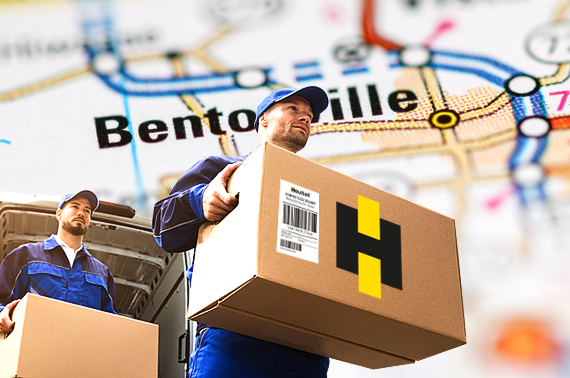 Bentonville is a city in Benton County, Arkansas, United States. As of the 2020 census, the population is 58,965. It was incorporated on January 10, 1873. The city is one of the four main cities in the three-county Northwest Arkansas Metropolitan Statistical Area. There is a robust public education system in Bentonville based on a solid and progressive school district: the Bentonville School District (BSD).
There are several places for tourists to experience the city's art and culture. For example, the Walmart Museum is a museum about Walmart, it's legacy, and the future. It also has Crystal Bridges Museum of American Art, which is a non-profit art museum. It was founded by  Alice Walton and designed by architect Moshe Safdie. Other places include Bentonville Public Library,  Neoclash, 21C Museum Hotel, Scott Family Amazeum, the University of Arkansas.
Haultail® same-day delivery is available in Bentonville, AR. We deliver within a 4-hour time frame of your request and include packing materials for easy unpacking upon arrival. To ensure the birdseed is fresh upon delivery, we have a fast turnaround from when the order was picked to when it reaches you. We pick up items from 6 am to 8 pm; however, orders can be booked up to 24/7. The service provides live tracking and allows you to see the exact location of your package while it is in transit.
From junk removal to construction & debris removal to dropping items at recycling centers and donation points, Haultail® has you covered with prompt service. We offer a simple booking process that doesn't require constant phone calls or emails. Our junk removal experts will get your junk removal job in no time. We are an environmentally responsible trash disposal and recycling company that upholds the highest standards and efficiency measures to provide you with dependable, fast, and affordable junk removal. We dispose of it at relevant recycling facilities. To get started, place your order at haultail.com or download our "HaulTail" app on Google Play Store for Android devices and AppStore for iOS devices.