BIRMINGHAM
DELIVERY SERVICE
NEAR ME
Haultail® same-day delivery is now available in Birmingham, AL. From furniture removal to even construction and demolition debris removal, we do it all.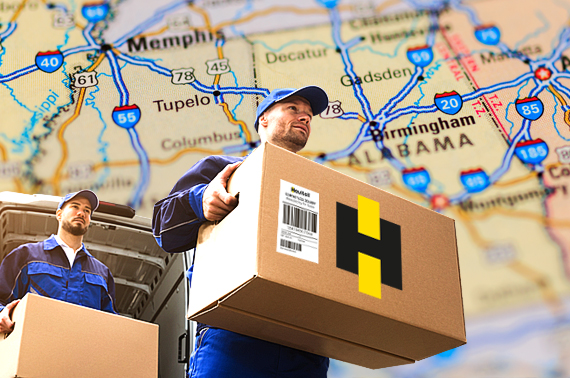 Birmingham, Alabama is a city located in Jefferson County, Alabama. According to the recent census, Birmingham had a population of 207,237 people. Birmingham is known as "the Magic City" because it was rapidly transformed from a sleepy farm town into one of the largest and most important cities in the southeast during the early twentieth century. There are several famous people from Birmingham including Courtney Cox, Nell Carter, and Kate Jackson.
Birmingham's rapid growth after the Civil War earned it the nickname"The Pittsburgh of the South". The city has a distinct four-season humid subtropical climate with mild winters and hot summers. Prevailing winds are from the south and southeast during most of the year; those from the north and northwest bring cooler weather between October and March. Birmingham's consumer market is one of the largest in the U.S., with major shopping malls, retailing, and warehouse clubs located throughout the city; other major malls are located in suburbs.
Haultail® on-demand delivery service is proud to be in Birmingham, AL to help deliver your orders at your desired destination. Whether you are shopping online or buying and selling on Craigslist, Haultail® brings convenience to consumers by delivering packages directly to their homes or offices within a few hours. Our same-day pickup and delivery service also provide real-time tracking, excellent customer support in the Birmingham area that you just cannot ignore.
On the other hand, we also take care of junk removal in the city of Birmingham. Whether you want to remove trash at home or office, just call us and we'll come to pick it up for you. We specialize in disposing of items like broken appliances, household garbage, construction debris at relevant places at feasible rates. Haultail® is committed to customer satisfaction and we provide the best service at affordable prices. We also provide real-time tracking of our pickup and delivery vehicles. This helps our customers know where we are at all times.