Boston
DELIVERY SERVICE
NEAR ME
Making it a world leader in higher education, Boston is a thriving center of scientific research. Being one of the most populous cities in the United States, Boston has quite rushed lives. And with many people moving in and out of the city for studies or settling, moving, packing and picking up storage can be a hassle. That's where we come in to ease your concerns regarding the issue. We are now available in Boston. To put an end to your worries when it comes to courier related facilities.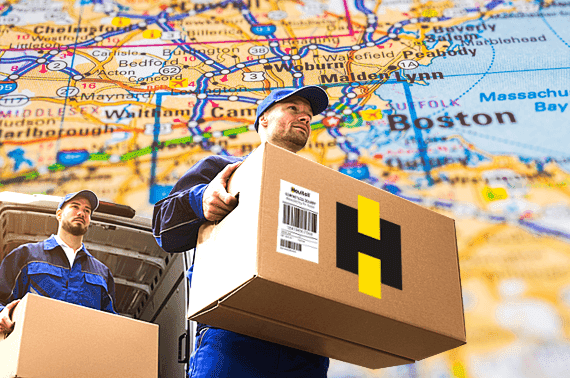 The rapid contactless same-day deliveries by Haultail have been made very convenient for you. With just a few clicks away, our team will ensure your utmost interest in local delivery, pick up (purchased items) from retailers, courier facilities, and much more. Our Boston delivery services around the city also have extra services that include:
• Special Equipment requirement: If you require any specific equipment to lift/move/pack your item, you need not worry as we'll make sure to use the instrument for your asset's safety.
• Cleaning up: Things can a little messy once heavy stuff is either taken out or brought in but should that be a concern for you to worry about? Absolutely not because with our extra services, we'll also make sure that your place is spotlessly clean and tidy once the work is over.
• Additional helper: If any of your items need an extra little hand, don't worry about it either! You can always request an additional helper. For your work to go smoothly.
If you have been delaying buying a pretty T.V set or bookshelf from Lekker Home or Room & Board, hurry up! Shop immediately and leave the rest to us. Our user-friendly mobile application and website have many options for you to choose. Therefore, from small packages to large items, we provide suitable vehicles according to all the customers.
Book us at affordable prices and easily avail of our Boston pickup and delivery services. Get your packages and things moved, packed, received, sent with the help of our team. You can always save time and extra effort by leaving the transit responsibility to us. Sit back and relax as we immediately start working on your demand as soon as you book us. You can track our drivers via a mobile app throughout the transit time. It will put you at ease and create a clear picture as to how we function.