CLEVELAND
DELIVERY SERVICE
NEAR ME
Cleveland users can now take advantage of the best same day pickup and delivery services in the industry. That's right, Haultail® offers on demand delivery and junk removal jobs like no other company.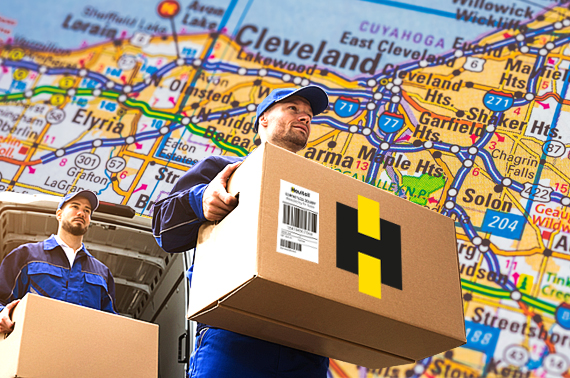 Cleveland, Ohio is one of the major cities of Cuyahoga County. The city proper has a population of 388,072, while its metropolitan area's population is over 2 million. It is home to the Rock and Roll Hall of Fame. It has several popular tourist destinations such as the Cleveland Museum of Art, the Cleveland Play House, and Rockefeller Park. And, there are many professional sports teams including the Cleveland Indians, the Cleveland Browns, and the Cleveland Cavaliers.
Major life sciences organizations in Cleveland include a Pfizer site with 1400 employees, a University Hospitals complex with 800 employees, and a 500-employee genomics R&D site of Novartis. There are many celebrities like Paul Newman, Halle Berry, and Patricia Heaton who hail from this city. It is also home to a multicultural and diverse group of people. It is also famous for the Cleveland Museum of Art and Playhouse Square, noted in cultural and art centers.
Haultail® delivery and junk removal services are available in Cleveland providing the fastest, efficient, and cheapest delivery service in the country. We provide pickup from retail stores, offices, homes, and luxury estates in and around the city of Cleveland. You can even buy or sell from Craigslist and we'd be happy to assist you with the delivery. You would not have to meet the buyer or the seller; just create a job on the Haultail® and the delivery will be taken care of – most likely 4 hours. Sometimes, in under 2 hours for expedited deliveries. That is faster than Amazon. 
Our ride-sharing technology and intuitive user interface make it easy to create a delivery job and our vetted drivers always strive for the best. We know that time is money, so we provide pick up and delivery on almost the same day unless scheduled otherwise regardless of where it is – be it Chester Avenue or E 4th Street. Extremely courteous staff that would make your entire experience with our same-day delivery a breeze. Haultail® also has 24/7  customer service to address your concerns, anytime and every time!