DALLAS
DELIVERY SERVICE
NEAR ME
Delivering items from one place to another is no more difficult in the city of Dallas, Texas. Download the Haultail® same-day pickup and delivery app and get that junk picked up and removed or products delivered in less than 4 hours.
Dallas, Texas is the third-largest city in Texas and ninth-largest in the U.S. According to data collected by the U.S. Census Bureau, it had a population of around 1,305,000 people making it among the most populous cities in the country. Dallas is known for its oil industry but has divers. Situated in North Central Texas on the Trinity River, Dallas is the hub of the largest city area in the United States without any navigational connection to the sea.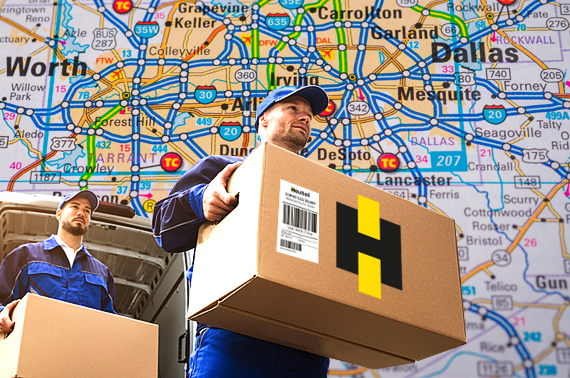 The Dallas-Fort Worth Metroplex is the hub of the North Texas region. Dallas is known for tourist attractions such as the Dallas Aquarium and the JFK Memorial. There are many celebrities who hail from this city including Selena Gomez, Michael Johnson, Norah Jones, and Demi Lavato. The city is also home to several pro sports teams such as the Mavericks (NBA), the Cowboys (NFL), Texas Rangers (MLB), and FC Dallas (MLS). Dallas has many Fortune 500 Companies such as  AT&T, Southwest Airlines, and Texas Instruments. 
You can now get the fastest, most convenient, and affordable last-mile delivery services in the Dallas, TX area with Haultail®. We offer a wide range of services that can provide delivery for your package and is available to pick up your order from the location you specify. 
Haultail® provides customers with high-quality services such as Scheduled pickup and on-time deliveries – whether they are near The Dallas Arboretum and Botanical Garden or Lower Greenville. Online Real-time tracking. With Haultail, you can track your order every step of the way. Upfront price quotes so you'll know how much it will cost before we deliver and there are no hidden charges.
Haultail® also offers service quality junk disposal services to households but also for large volume users such as hotels, motels, office complexes let's say in Pegasus Park and warehouses around the city, and ensures their waste will be responsibly disposed of. Haultail® can provide you with a custom delivery plan to fit your specific needs and budget. For more information about our delivery services in the Dallas, TX area or any of our other locations around the country, use the Haultail® app today.