Delaware
DELIVERY SERVICE
NEAR ME
Known for being the second smallest state in the United States, Delaware has its unique charm. The small size of the state compensates with an equally dense population. This fact keeps the demand and supply rates quite favorable. We are now easily accessible, considering the daily requirements of the people in Delaware. If you've recently moved to Delaware or planning to shop from Furniture barn or Walmart and got no convenient item delivery facility, Haul it with Haultail!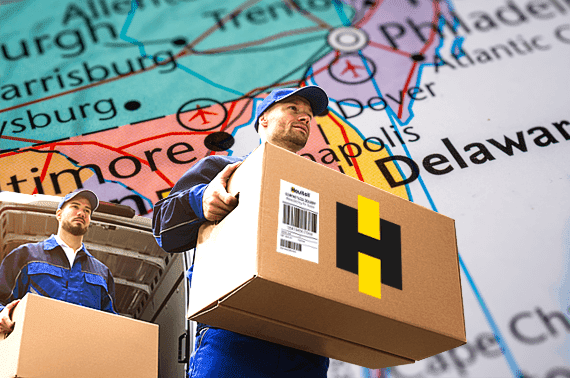 From sending couriers, store pickups to storage moves, we are available at your fingertips to aid you with our outstanding facilities. Our Delaware delivery services are now available for you to access any time, seven days a week. If you're looking for the best local on-demand delivery services, you need not think twice before considering us. Our user-friendly website and mobile application are always available for you to scrutinize, look through and finally book a service that you demand. With our affordable prices and valuable customers' trust, we ensure that you won't have to worry about anything once you choose us with moving/courier services.
Haultail isn't only limited to moving and packing. We also include extra facilities that include additional helpers, cleaning up, using special equipment (if necessary), expediting time of order, and much more.
Why should you trust Haultail
Spontaneous team: Our management works hard to meet your demands all over the city. You can enjoy our customer services anytime and clear your queries instantly.
Clear pricing: The accurate pricing calculations from Haultail enable a precise understanding of the service cost system.
Saving time: With us, you can always save time by booking us and leaving the service responsibility on to us. You need not travel miles to deliver just an envelope.
To enjoy Delaware pickup and delivery services, you can easily shop from any corner of the state. If you shop and find the item impractical to carry with yourself right away, you can book us to pick up your item from the retailer's location to deliver it to your place of choice. All you have to do is fill in the required information like time frame, date, day, and locations. We'll take care of the rest.