Miami
DELIVERY SERVICE
NEAR ME
Miami welcomes close to 14 million tourists every year. Thanks to its amazing tropical climate, lush and pristine beaches combined with some relaxed ambiance, Miami has become a bucket list destination for many around the world. In spite of the hush-bush, bling, and touristy glamour, this fantastic metropolitan city in Florida is also home to more than 300 thousand locals who enjoy the sand and breeze as much as any walk-in tourist.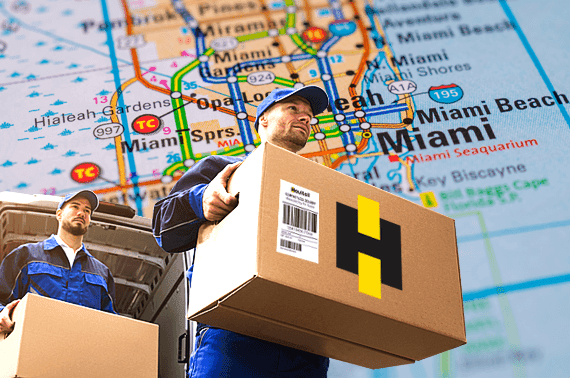 Beyond the visual lifestyle of leisure and recline, Miami is also a major center of finance, commerce, trade and is a strong international business community. Miami is the 4th in America with the highest percentage of family income and has been attracting a multitude of incoming migrants who come here not just to enjoy the vibrant culture, diverse population, and relaxing environment, but to be part of the massive economic growth that Miami offers.
With such huge movement in and around Miami, there is a lot of dependency on experienced delivery services for daily needs, whereas, many of them are underprepared for the growing need for quality delivery service. From groceries to merchandise; furniture to construction material, Haultail is equipped to be the best on-Demand Delivery Network that is available 24/7. Now, having your items delivered is as simple as lying under a cabana on the Lummus Beach.
Haultail's online and in-app services have made their services available at your fingertips where all your transports, deliveries, courier services can be ordered with just a few clicks and also allow you to track your delivery and have the ability to contact the driver within the same app.
Any product, any shape, any size picked from Bayside Market place or Facebook Market place,
Haultail can deliver them for you. In 2021, buying or selling online has become so rampant and a large number of people are moving to online communities like Craigslist, or Offer up. And they all need a reliable delivery service like Haultail, to be that someone who pick or drop your products for you, without you moving worrying about the distance, tolls or parking.