St. Louis
Delivery Service
Near Me
Haultail® is available in pickup and delivery services in St. Louis, MO. Along with same day shipping in the city, we also offer services in trash disposal of all types except hazardous.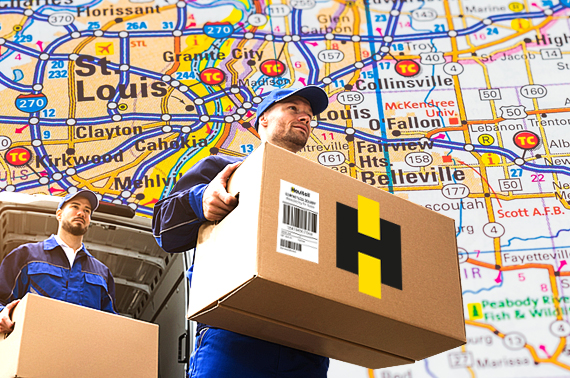 St. Louis, MO, has a population of over 301,294 people. It is the county seat of St. Louis City and is an independent city. It's situated on the west bank of the Mississippi River. St. Louis was first explored by Pierre Laclede and August Chouteau in 1764. The city is named after King Louis IX of France, who reigned from 1226 until his death in 1270. The downtown area contains one of the largest historic districts in the country, with many nineteenth-century buildings still standing or restored to their former glory. 
Much of this architecture can be found throughout areas such as Lafayette Square or Soulard Market District, where old brick townhouses remain intact along with some cobblestone streets that have been preserved from the city's French beginnings. The city's economy is based mostly on trade and transportation. The area acts as home to a number of companies, including Monsanto Company and Edward Jones Investments. It has been declared by numerous sources as among the best cities for business travel.
Haultail® offers quality same day delivery for our customers in St. Louis, MO. Our on demand pickup service enables you to get quick/free quotes, along with speedy turnarounds. Our service runs 7 days a week, so you can pick a time that works best with your schedule. Whether you have to get a small item picked up or a large furniture set delivered, we're willing to do whatever it takes to get the job done.
Apart from same day delivery, we also provide on demand quality trash disposal services in St. Louis. Haultail® is committed to providing you with the lowest price possible, and you can get a free quote on our app. Once you book a junk removal job, we'll send a crew out to you that will help you take care of the junk in a quick and efficient manner. You can use our service to get rid of just about anything, including appliances, construction material, furniture, tires, or general yard waste. You can even use Haultail® bags that are made up of proven polypropylene fiber material. These bags can take up to 110lb and can be reused 4-5 times.