Rapid City Delivery Service Near Me
Haultail® on demand delivery services are now available in Rapid City, SD. To see what's available in your area and to get started with Haultail®, download the Haultail® app!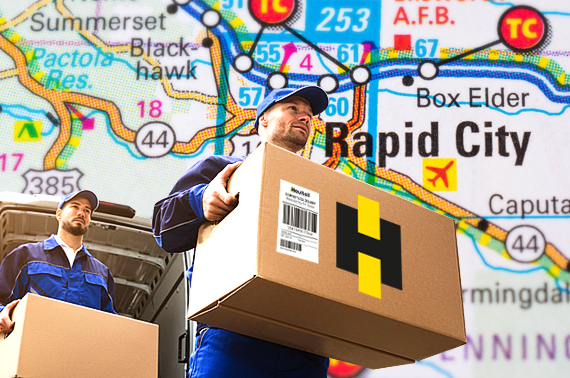 Rapid City is the second-largest city, by population, in South Dakota and the county seat of Pennington County. It is named for Rapid Creek, a tributary of the Missouri River. As of 2020, Rapid City had an estimated population of approximately 80,000; the metropolitan area had an estimated population of over 144,000. The city was incorporated in 1883. Some of the best tourist spots in the city are the Journey Museum of the Plains Indian, Mount Rushmore National Memorial.
The climate of Rapid City is continental, with hot summers and cold winters. Precipitation is minimal, with most rain falling in summer. On average there are 109 sunny days per year, 111 partly cloudy days per year, and 182 overcast days per year. Rapid City features a wide range of housing options for its residents including historic homes on the west side of town, modern homes in the Southwestern style found on the southwest side of town, or custom-built homes built throughout the city. .
Haultail® is the best pickup and delivery service in Rapid City, SD. We know you don't want to spend your valuable time picking up or delivering something. Let us help you out with that. We collect your items from wherever they are and deliver them to wherever you want. We also offer affordable junk removal services for customers in the Rapid City area. Haultail® has a nationwide network of drivers ready to pick up and deliver your items for you. As long as it fits in our truck we will haul it away from wherever you are and drop it off at its
Haultail® can help you with all your deliveries in Rapid City, SD. We make the process of getting your items where they need to be easy. It doesn't matter if it needs to go one block away or across town; we will get it there in a few hours — under 4 hours in most cases and under 2 hours as part of expedited delivery. Get huge discounts on our already low-cost delivery rates when you request a quote from us today. It takes only a few minutes so what do you have to lose?