SALT LAKE
DELIVERY SERVICE
NEAR ME
Haultail® offers premium quality same-day junk removal and delivery services in Salt Lake City, Utah. We provide the fastest courier services and prompt garbage pickup schedules.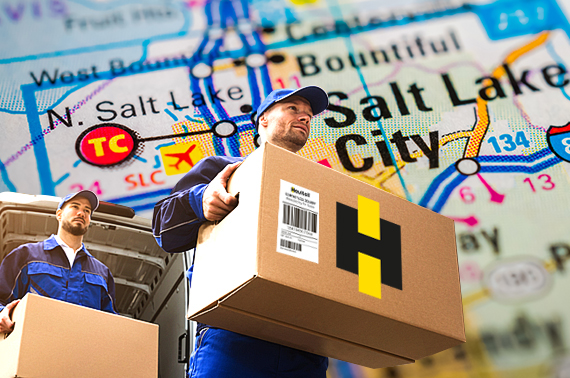 Salt Lake City is a large city in the north-central part of Utah, United States. A 2007 Census estimate put Salt Lake City's population at around 180,000; the Census Bureau estimated the metropolitan area's population at over 1.2 million as of 2007, 84% of Utah's total population. It is known for its proximity to outdoor recreation opportunities in the Wasatch Mountains. Some of the famous people from Salt Lake City are Karl Alvarez, Nathan Chen, Faye Gulini, Trevor Lewis, and Andre Agassi.
It was founded in 1847 by Brigham Young and his followers, who abandoned their religious persecution in the mid-western United States. The "Saints" settled on Mormon Land (today's State Street) in the Salt Lake Valley. Salt Lake City has a robust education system, and there are many world-class cultural institutions in the city. The city was host to the 2002 Winter Olympics games. Salt Lake City has a temperate climate which is generally semi-arid, though it is noticeably drier than other places in the United States with such a continental climate.
Haultail® on-demand delivery is a rapidly growing service in Salt Lake City in Utah. We pick up and deliver everything from home decor to motorcycle parts to apparel within 24 hours. Expedited deliveries happen within 2 hours as well. So, whether you're planning for a get-together or conducting an event at your home or office, you can rely on us for a great experience.
Haultail® junk removal services specialize in getting rid of any size items at a very affordable price. Not only that, but we also transport the junk to the nearest recycling center if it's in a condition where you're allowed to recycle it. If you want your unwanted clothes, furniture or electronics to be delivered to someone in need, you can also request it. You can book your delivery or junk removal job in simple steps on our mobile app or website, just search for Haultail® junk removal in Salt Lake City.