SOUTH BEND
DELIVERY SERVICE
NEAR ME
Haultail® is the best South Bend last-mile pickup and delivery company for your delivery needs. We have the experience and resources to make your pickup and delivery as smooth as possible.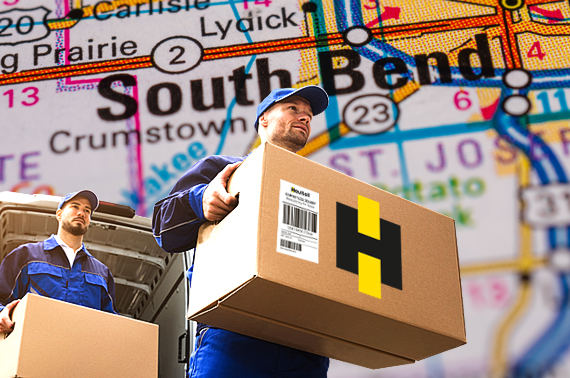 South Bend is a city in and the county seat of St. Joseph County, Indiana, United States. It is located on the St. Joseph River near its southernmost bend, from which it derives its name. As of the 2020 census, the city had a total population of 103,168 and it is the fourth-largest city in Indiana, after Indianapolis, Gary, and Fort Wayne. The city's downtown is adjacent to the Indiana University South Bend campus. Notable institutions include the University of Notre Dame, Saint Mary's College, Ivy Tech Community College of Indiana, and Holy Cross College.
The Potawatomi ceded their land near South Bend to the United States government. In 1865, the town of South Bend was incorporated as part of the state of Indiana. Soon afterward, it became an important railway hub and a manufacturing center. It has several sports teams, including the Notre Dame Fighting Irish and the South Bend Cubs. South Bend is a great place to live, work, and raise a family. It has a strong economy, excellent schools, and a variety of cultural and recreational opportunities.
For any help with same day pickup and delivery, Haultail® is the best option in South Bend. With years of experience, we provide top-quality service with a focus on customer satisfaction. From a small courier to large truckloads, we can help with all your needs. Once a job is created on our app or website, our drivers get informed and can start their routes immediately.
Along with that, we also provide same day junk removal and garbage disposal services. So if you have any old furniture, appliances, or other items that need to be disposed of, create a trash disposal job and we'll take care of it for you. Our drivers are always happy to help, and we send your junk for recycling as per your request. With Haultail®, you can rest assured that your needs will be taken care of quickly, efficiently, and affordably.