TAMPA
DELIVERY SERVICE
NEAR ME
Are you a Tampa resident or business looking to deliver items from one place to another? If yes, do not look beyond Haultail® on-demand delivery, which is now operational in Tampa, FL.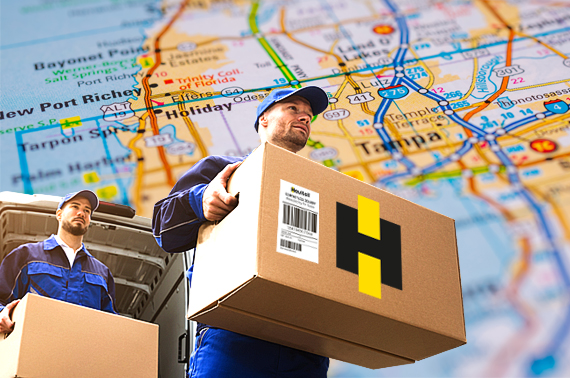 Tampa is a major city in, and the county seat of Hillsborough County, Florida, United States. It is on the west coast of Florida on Tampa Bay, near the Gulf of Mexico. The city had an estimated population of around 400,000. Tampa has several tourist attractions such as Busch Gardens Tampa Bay, the Museum of Science and Industry (MOSI), and Raymond James Stadium. It is also home to several arts venues and theaters including the Straz Jr. Center for the Performing Arts and The Tampa Theatre.
Tampa was regularly named as one of the best cities to live in the world. Tampa is ranked as a "Gamma+" world city by Loughborough University. Some of the famous celebrities from Tampa are JoAnna Garcia, Sarah Paulson, Brandt Andersen, and Brittany Snow to name a few. It also has many museums and galleries including the Florida Museum of Photographic Arts and the Tampa Museum of Art.
Now, get Haultail® on-demand delivery services in Tampa, FL, and make your day worth it. From documents to large furniture, Haultail® hauls and delivers anything you want, anytime to your doorsteps. Deliveries can be booked with just a few clicks on our mobile app and the job is done between 6 am to 8 pm, 7 days a week, from anywhere in Tampa. So if you're near Tampa Riverwalk and want to deliver something to Ybor City, it'll be taken care of.  
Once a job is created, the app will connect you to a local driver who will give you a time estimate for the job to be completed. Our drivers or shipping experts will deliver and assemble your furniture and promise you complete satisfaction. Offering a safe, secure, and convenient to use app, Haultail® is the right choice for hassle-free deliveries. 4 hours is the standard delivery time and a 2-hour delivery option is also available for urgent deliveries. If you're in LA, you can get items from Craigslist and eBay and we will help you get them delivered to your doorstep.