Tucson
DELIVERY SERVICE
NEAR ME
Located in the county seat of Pima county, Tucson is one of the most populated cities in Arizona. The lively city is home to many. From tourist attractions to renowned universities, you have it all. Since such populated places require a high amount of services regarding courier and hardware transits, it is necessary to have a highly professional name in the city. Therefore, Haultail is now in Tucson to help you with your regular courier services.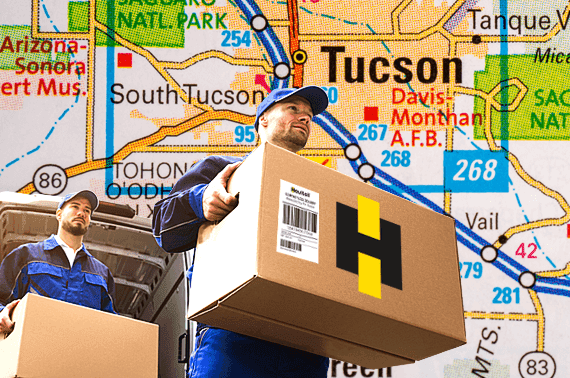 Gaining popularity and trust with our services throughout the country has only made us better with time to serve you with the best. Hence, we are now near you to help you with all your moving/packing/courier related facilities. The Haultail app and website ensure a smooth user interface and experience to make your booking easy. You can book our drivers/vehicles along with the specific time and date any time of the day. As soon as you book us, we'll make sure to carry out your request in the most professional way by managing your valuable time. You don't need to worry about tiresome lifting and carrying your packages. As long as you got us, you'll always save your time.
Our Tucson pickup and delivery services are now available at your fingertips. From transferring a small document envelope to picking up everyday items from local stores and shifting neighborhoods, we haul it all.
When should you consider booking Haultail?
• Sending a Courier: If you have an official document to send to your friend and got no time to travel all the way, book us with our expedited service to get your doc moved.
• Picking up an item from a store: Confused to buy a beautiful T.V set you saw at Pottery barn this weekend? Worry not as you can purchase the item, leave it at the store, book us, we'll deliver it to you! If your vehicle is small to carry any heavy items, Haultail will surely take care of it.
• Moving/Shifting: As worrisome and tiring as it sounds, moving places isn't easy. Therefore, with our affordable and pocket-pleasing prices, you can trust us with this task.
• Removing of Junk & Debris: Every house has that one corner of excess junk lying around, and nobody got time to get it sorted or picked up. That's where we come in. To clean up the mess and get your junk & debris out of the way!
The Tucson on-demand delivery services have never been easy. Relax while you rely on us with your time and trust.