You may never have seen them, but vast open-air pools of toxic water, from hazardous mining byproducts to diluted pig waste, are a common feature at thousands of industrial and agricultural sites across the country.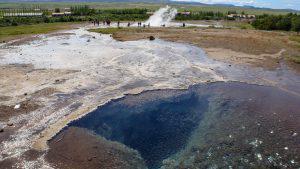 One of them, a giant wastewater pond at a former phosphate mining site south of Tampa, Fla., teetered on the brink of catastrophic failure for a while this week, and that's brought the risks of these seldom-seen pools into sharp focus.
For decades, tailings — in this case, a noxious slurry containing traces of radium along with arsenic, lead, and other elements — were placed in the pond and left to evaporate. Recently, though, heavy rainfall, one of the hallmarks of climate change, has outpaced evaporation.
To relieve pressure on the pools' walls, workers have been releasing about 35 million gallons of wastewater a day into nearby waterways. It appears that a catastrophic breach has been averted, but there's still likely to be serious environmental fallout from all that polluted water, which also contains nutrients that could spur harmful algae blooms, and, potentially, widespread fish kills.
Quotable: "With climate change, we're going to see more frequent and stronger storms that are going to impact these sites," said Daniel Estrin, general counsel at the Waterkeeper Alliance, a clean water nonprofit group.
This article was originally published by Hiroko Tabuchi, nytimes.com.