Lowe's has shipped 3,000 truckloads to potential hurricane impact areas. 
With Hurricane Dorian, a Category 2 hurricane stalled over the Bahamas, industry retailers continue to monitor the situation while reacting to changes in the storm's path.
Florida could be spared a direct hit from the hurricane but the potential path of the storm now looks to take it up the East Coast.
In addition to emergency prep products, Lowe's said it has staged flood trucks ready and waiting just outside the potential impact zone of Dorian including the Southeast coastline.
The Mooresville, N.C. retailer said that the trucks will move into the areas most affected by flooding "as soon as it's safe to do so." On board the vehicles are buckets, cleaning tools and supplies, dehumidifiers, gloves and other safety equipment.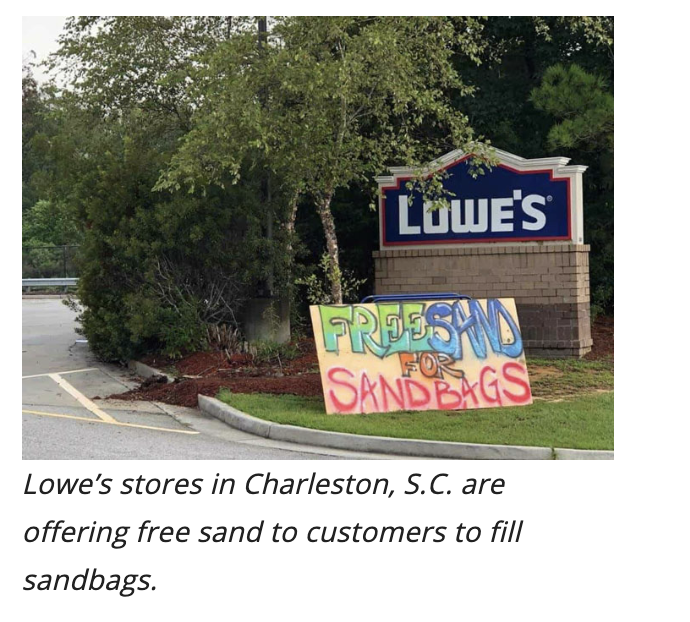 Source: HBSDEALER
As of Sept. 1, Lowe's said it has now shipped more than 3,000 truckloads of emergency supplies to regions that could be impacted by the storm. Products on these trucks range from generators to gas cans to flashlights and more. Lowe's recently redirected 40 truckloads of generators to stores along the East Coast, including locations in South Carolina.
In Charleston, S.C., three Lowe's stores are offering free sand to customers preparing for Hurricane Dorian. An assistant store manager there, Sergia Oliveira, said, "Our community floods easily and we believe being there for our community is our true calling."
Both Lowe's and The Home Depot put emergency response centers into action last week as the storm began a slow approach to the Southeast.
Original story from HBSDEALER