Thousands homes and businesses were without power in East Texas Monday after severe storms near Dallas ripped off roofs and downed power lines
At least one tornado was confirmed to have touched down in northern Dallas Sunday evening, the National Weather Service said.
No serious injuries or fatalities were reported, the city said in a news release early Monday. Fire-Rescue spokesman Jason Evans told the Associated Press, though, three people were hospitalized with non-life-threatening injuries.
In Arkansas, which also saw severe thunderstorms, at least one person was killed when a tree fell on a home in Rogers, about 150 miles northwest of Little Rock, according to the Benton County Department of Public Safety.
Damage from the storms was also reported in Oklahoma and Missouri.
The Storm Prediction Center in Norman, Oklahoma, says areas of Alabama, Louisiana, Mississippi and Tennessee could see severe thunderstorms later Monday. Tornado watches were in effect in parts of Tennessee and Mississippi, according to the weather service.
Around Dallas, as emergency crews assess the extent of the storms' power, photos on social media showed that the twister damaged some buildings, breaking glass and downing trees. Most of the damage within Dallas appeared to be limited to the northwest.
A Home Depot had its roof torn off and part of the building collapsed. The store's manager told KDFW-TV that he sent employees home early and shut down the store after seeing the forecast Sunday night.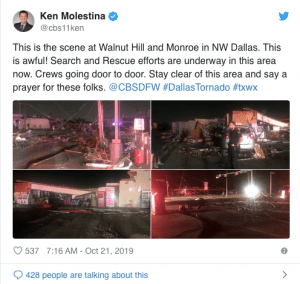 One fire station also appeared to be significantly damaged with a collapsed roof and debris all around.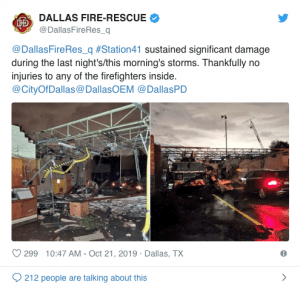 Evans said seven people escaped a structure that collapsed in northwest Dallas, but Dallas Fire-Rescue was searching to see if anyone was left inside. WFAA-TV reported that a convenience store collapsed in the storm, but the clerk told the station that everyone who was inside made it out safely.
According to electric utility Oncor, nearly 100,000 customers were without power as of 9 a.m. Entergy, which serves parts of Arkansas, Texas and Louisiana, reported more than 7,000 outages.
At least six schools were to be closed Monday morning, the city said on Twitter.
This article was originally published on  usatoday