Confirmed areas hit include Dallas, Garland, Ferris, Midlothian, Rockwall, Rowlett, parts of Van Zandt County and Kaufman County
The National Weather Service confirmed Monday that two additional tornadoes hit Kaufman County Sunday night, bringing the total number of tornadoes to nine.
The NWS classified the two Kaufman County tornadoes as one EF-0 and one EF-1.
Other areas hit by tornadoes:
Ferris: EF-0, 85 mph Midlothian: EF-1, 100 mph Rockwall: EF-1, 90 mph Dallas: EF-3, 140 mph Rowlett: EF-1, 100 mph North of Wills Point in Van Zandt County: EF-0, 80 mph Garland: EF-2, 135 mph The longest confirmed tornado path was the EF-3 in North Dallas, which stretched for 15.75 miles, according to the NWS.
The path of the EF-1 in Rowlett was 6 miles, and the path of the Rockwall EF-1 was nearly 2 miles long. The path of the EF-0 north of Wills Point was a little more than half a mile long.
Other path lengths haven't been confirmed yet by the NWS.
Check out a map of the tornadoes in the tweet below.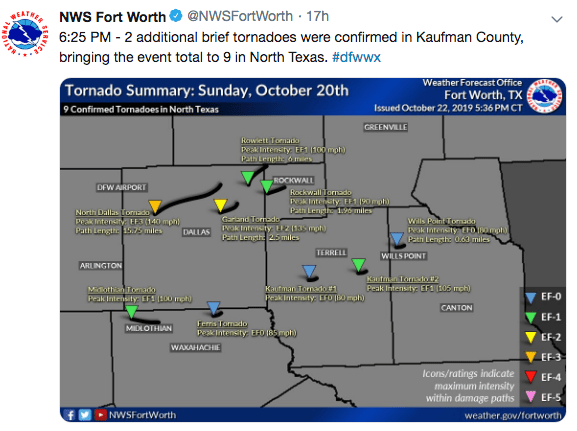 "It was really bad, and you could hear transformers popping from different places," Watkins said.
The Ferris Auto Supply & Hardware had some of the worst damage in the area. The roof was blown off into the neighbor's yard.
The service confirmed three other tornadoes on Monday.
City officials released recovery numbers Monday evening of outages and damage in the area.
Oncor reports there are still approximately 17,000 power outages as of Monday night. Officials also said six Dallas ISD schools are without power but Oncor expects it to be restored by Thursday.
Dallas ISD officials say an decision will be made by 4 a.m. Wednesday on whether the following schools will reopen:
Dealey Montessori Franklin Middle School Hillcrest High School Kramer Elementary School Jose "Joe" May Elementary School Medrano Middle School
Superintendent Michael Hinojosa is also expected to provide the latest updates on damages from the storms at a news conference scheduled for 1 p.m. Wednesday.
Dallas Fire-Rescue crews said after assessing surrounding areas there are 286 structures that suffered major damage and 104 buildings that were completely destroyed.
There was also damage reported at 13 City facilities including two fire stations, and five libraries, officials confirmed.
As for the latest traffic conditions, officials report 40 light signals need to be completely rebuilt and 20 signals need readjustments. The tornadoes left devastation across a wide swath of the Dallas area.
This article was originally published on wfaa