Dive Brief:
A bill (SB 522) originally intended to prohibit the purchase, sale, use or distribution of multiple plastic items in Hawaii was signed into law last month by Gov. David Ige — with significant changes. In lieu of a statewide single-use plastics ban, the legislation establishes a "plastic source reduction working group" — comprised of representatives from Hawaii-based environmental groups, local business associations and the beverage, recycling and plastic manufacturing industries — that will "formulate a plan for reducing and recovering plastic from the Hawaii waste stream." The working group will also provide strategies for plastic reduction and reuse in the food service industry, consult with counties that have enacted single-use plastics ordinances (with a goal of developing recommendations for a statewide policy), and evaluate the effects of replacing plastic packaging with alternative products.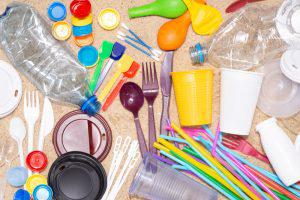 Dive Insight:
While Hawaii has a de facto bag ban in place as a result of county ordinances, SB 522 was touted by supporters as a crucial step toward implementing a uniform, statewide policy for single-use plastics. The issue has become increasingly pressing in the past year: Hawaii's island geography renders it completely dependent on foreign export markets for plastics, and scrap import restrictions in China and other countries have closed off a critical endpoint for the state's material.
However, local business associations and national trade groups — including the Plastics Industry Association, the International Bottled Water Association, the Hawaii Food Industry Association and the Hawaii Restaurant Association — opposed the plastics ban, raising concerns over revenue loss, operational costs and freedom of enterprise.
The bill's attenuated final iteration appears to reward their efforts, with environmental groups— including the Surfrider Foundation, one of the ban's key supporters — expressing frustration over the legislative process.
"We were hoping that our Zero Waste Bill would make it through the legislature unscathed, but many big lobbying groups pressure[d] politicians to water down the language and make it just a Plastic Source Reduction Working Group," Stuart Coleman, Hawaii regional coordinator of Surfrider Foundation, told Waste Dive in an email. "It's a shame because the bill was well-written and had a lot of support, but the powers that be seem to be more influenced by [a] small but powerful contingent of corporate lobbyists than the large number of environmental groups and people who supported it."
Alex Truelove, director of U.S. PIRG's Zero Waste Campaign, dismissed the legislation as extraneous.
"We don't need special working groups to determine whether or not plastic pollution is bad (we know it is), whether bans reduce plastic pollution (they do), or whether single-use plastic items like foam containers and film bags are recyclable (there are almost universally not)," he commented to Waste Dive via email.
Had the bill been left intact, Hawaii would have joined six other states — including Connecticut, Oregon, New York, Delaware, Maine and Vermont — in passing single-use plastics bans this year.
California, which already has a statewide bag ban, is also seeking to ramp up action on plastics. A a pair of bills that would establish a 75% single-use plastic reduction goal by 2030 recently advanced in their respective legislative bodies. They now await multiple rounds of committee votes — before coming up for a final concurrence vote that could send the legislation to Gov. Gavin Newsom's desk by this fall.
Original story from WasteDive