But consumers can still find deals if they know where to look
New car shoppers who like to look for deals over the Labor Day weekend may have their work cut out for them. The deals may not be much better than they could have found last month.
Automotive publisher Edmunds reports that several trends are working against consumers this year. The average advertised discount on 2019 cars and trucks hit 6.4 percent in July, and buyers aren't likely to do any better than that. And model-year closeouts don't happen in September like they used to.
Edmunds analysts say manufacturers have pulled back on major advertising and incentives for the holiday weekend because they think it's fine to have 2019s on the lot through the end of the year. They'll hang onto those vehicles until it's time to make last-minute end-of-the-year deals.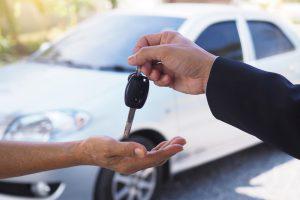 Labor Day isn't what it used to be
In December 2014, just 24 percent of December sales were for 2014 models, while most of the rest were 2015s. Last December, 2018 models made up 44 percent of sales during the month.
"Automakers no longer have that 'everything must go' mentality that they used to when it comes to clearing out prior model year vehicles," said Ivan Drury, Edmunds' senior manager of insights. "Labor Day weekend historically served as a key moment in time for automakers to pile on the deals to clear out as much old inventory as possible and make room for the new, but we've seen a major shift over the last few years."
A contributing reason for that is the recent spike in auto loan rates. That makes it more expensive for automakers to offer financing incentives.
"They're simply not in the same rush," Drury said.
But shoppers may still find a deal
That doesn't mean car shoppers should stay home this weekend. In fact, local deals might offer some very attractive deals if they happen to be overstocked in certain vehicles. But shoppers will need to do more careful research to find these deals.
"The fact is inventories are high and automakers are motivated to move these cars," Drury said. "Shoppers just need to be a bit more strategic in their approach."
Here are some tips for finding a deal this weekend:
Check local dealer websites. You may find deals here that aren't on TV or in the paper.
When you're on a dealer's website, be sure to check the inventory. If you see a lot of the same model car or truck, chances are the dealer will be more eager to make a sale.
At the dealership, check to see how long a car has been on the lot. You may be able to do that by seeing when it was inspected. Another way is to check the sticker on the inside of the vehicle's door jamb. If a dealership has had a vehicle for more than two months, it's more likely to make a deal.
Original story from consumeraffairs