Thunderstorms have been spotted off the west coast of Florida as Potential Tropical Cyclone 16 moves over the central Gulf of Mexico.
Thunderstorms were spotted off the west coast of Florida this morning as a disturbance moving over the Gulf of Mexico headed northeast toward the Panhandle.
Potential Tropical Cyclone 16 is expected bring heavy rain, gusty winds and possible storm surge to the Tampa Bay area tonight into Saturday.
If it develops into a tropical or subtropical storm later today, it will be called Nestor.
"It's a very messy-looking storm right now," said meteorologist Rodney Wynn of the National Weather Service in Ruskin. "There is a lot of convection associated with it. It is not a typical circular organized form at the present time."
As of 10 a.m., the fast-moving system was located in the central Gulf, about 230 miles south-southwest of the mouth of the Mississippi River and 395 miles southwest of Panama City. It was moving northeast at 22 miles per hour with maximum sustained winds of 60 miles per hour and higher gusts.
More organization is expected today through Saturday, Wynn said. The storm should make landfall around 8 a.m. Saturday near Panama City Beach. It is expected to be over the Carolinas by Sunday morning and then in the Atlantic Ocean by the start of next week.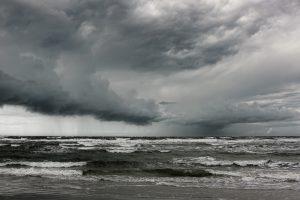 Tampa Bay should expect around 2 to 4 inches of rain. Thunderstorms have been spotted out in the Gulf, and there is potential for waterspouts. Tornadoes also are possible, with the area north of Tampa Bay at the highest risk. Coastal flooding about 2 to 4 feet above normal is anticipated from Pinellas County northward.
The heaviest wind and rain is expected later tonight through early Saturday morning. As the storm progresses toward the northeast, we're going to see heavier showers and coastal effects along the beaches.
The greatest impact is expected along the Nature Coast, well to the north of Tampa Bay and along the western Panhandle, around Panama City Beach and Destin.
A tropical storm warning is in effect for residents from the Mississippi/Alabama border to Yankeetown, Florida and from Grand Isle, La., to the mouth of the Pearl River.
A storm surge warning has been issued for Florida, from Indian Pass to Clearwater Beach.
Hernando County has opened a self-serve sandbag site today from 10:30 a.m. to 6 p.m. at Linda Pedersen Park, 6300 Shoal Line Blvd., in Spring Hill. Residents are asked to bring their own shovel.
"We're still in hurricane season," Wynn warns, "so everybody should still stay prepared until the end of November."
This article was originally published on  tampabay