Tropical Storm Karen could perform a feat of mid-ocean acrobatics later this week and execute a clockwise loop that will take it toward Florida and the Bahamas. But Karen is expected to weaken over the weekend, falling below tropical-storm strength well before any approach to Florida.
The National Hurricane Center says the storm's top wind speed, which stood at 45 mph Thursday morning, is likely to fall to 30 mph Sunday, as the system enters an unfavorable environment of dry air and wind shear.
"Right now, it's pretty weak and ragged," said Phil Klotzbach, research scientist at Colorado State University's Tropical Meteorology Project. "That's not to say it couldn't blow up and be something big, but at this point the odds are fairly low. At this point, it's something to be monitoring but it's nothing to be worked up over yet."
At 11 a.m. Thursday, Karen was located about 405 miles south of Bermuda, moving northeast at 14 mph.
As for the loop, the storm is predicted to head northeast, run into a wall of high pressure and veer southwest, crossing its own path and following a tight circular course as it heads toward Florida and the Bahamas.
Such loops aren't typical for hurricanes, but they're not unheard of. Hurricane Betsy, a powerful 1965 storm, at first made the turn north that Florida residents always hope for. Then north of the Bahamas, it hit a ridge of high pressure similar to the one that will stop Karen, looped around, crossed its own path and made landfall on Key Largo at Category 3 strength.
Hurricane Alberto caused virtually no damage in its tour of the Atlantic, but it executed a spectacular loop over the mid-Atlantic in 2000, its center circling an area hundreds of miles wide before the hurricane headed north and dissipated. And in a situation that bears an ominous similarity to Tropical Storm Karen, Hurricane Jeanne in 2004 had been heading north, just as Karen was, made a loop, plowed over the Bahamas and hit Florida around Stuart at Category 3 strength.
The storm's course would appear to take it harmlessly into the wastes of the northern Atlantic. But atmospheric conditions are expected to change dramatically by Friday, with steering currents collapsing and a ridge of high pressure building to the north.
Forecasts of the storm's likely path extend only for five days, so it is too soon for Florida or the Bahamas to appear within the hurricane center's cone of uncertainty, the map that show the range of possible courses for the storm's center.
Michael Brennan, branch chief of NHC's hurricane specialist unit, said the storm will run into dry air and wind shear in the next day or so, making it less likely to strengthen in the short term.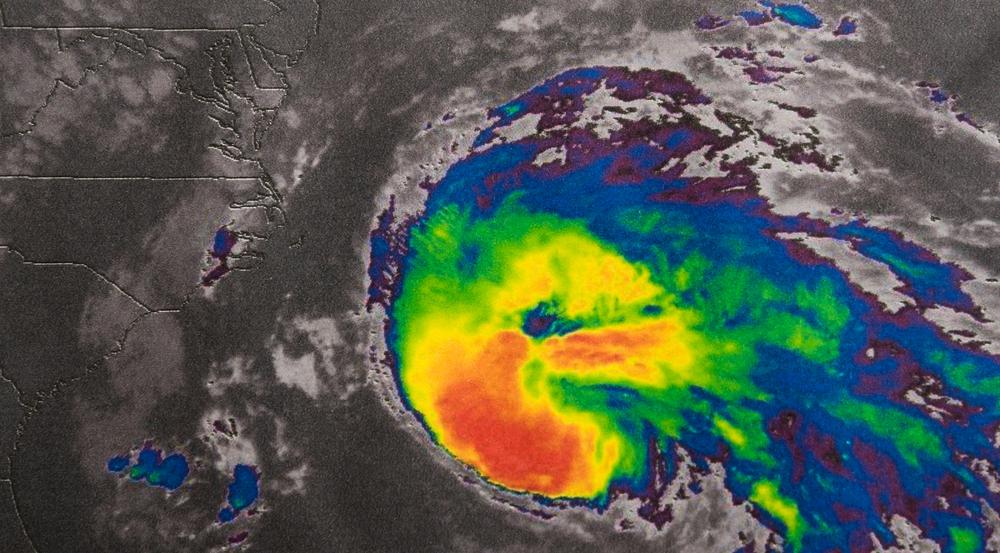 It's too soon to tell whether residents of Florida or the Bahamas should worry, he said.
"It's just something to take note of at this point in time," he said. "We're forecasting it to remain a tropical storm for the next five days. It's just something people should keep an eye on and see how the forecast evolved as we go into the weekend."
The latest models show Karen heading toward the southern Bahamas by Tuesday and South Florida by Wednesday, he said. But there's a good chance it will have weakened by then to the point that it's virtually gone, said Dan Kottlowski, senior meteorologist for AccuWeather.
"Our concern is Karen could be a lot stronger than the long-range computer models are saying," he said. "So we're telling people to keep an eye on this thing. It's at least a week away from us. There's a lot of uncertainty.
"When storms like this slow down and stall, they become very unpredictable longer term. But it's got a long way to go before we have to worry about Florida at this point."
Original story from sun-sentinel