After a flurry of Christmas and New Year proposals – with Valentine's Day and Leap Year engagements just around the corner – wedding planning season is in full swing.
The biggest wedding shows of the season all take place over the coming months as soon-to-be-weds make a start on planning the best day of their lives. And while there are certain mainstays that show no sign of going anywhere just yet (hello, white dress), 2020 brings a raft of exciting new trends for couples who fancy breaking the mould.
Whether you're looking for inspiration for your big day or just want to sneak a peek at what to expect when you attend someone else's nuptials, we unveil what's set to take the world of weddings by storm this year.
From DIY barn celebrations with furry guests in attendance to 70s-inspired dresses and margarita trucks and even eco-friendly nuptials for millennials with a conscious, one thing's for sure: the times are a-changing.
Girls talk
Fed up of listening to the same old best man jokes while your stomach silently rumbles?
Well, you're in luck. A welcome trend sees women step up to the mic when it comes to the speeches. And as we all know, women have better patter.
Joint bride-and-groom speeches are becoming more commonplace at the weddings of forward-thinking couples, and some brides are asking their maid of honour to say a few words.
There are no statistics to back this up, but I'd wager that most women actually write their speech in advance and don't ramble on without reading the room. You'll be tucking into your vegan tacos in no time.
Sleeve it out
A statement sleeve on a traditional gown is giving an increasing number of brides a stylish edge.
"At New York Bridal Week, there were so many different styles of sleeves," says Sharon McPherson, owner of bridal boutiques Opus Couture and Opus Atelier, who spotted everything from bohemian bell sleeves to billowing balloon sleeves with elasticated ends.
"Long sleeves with low back lines, delicate cap sleeves and soft butterfly sleeves too."
Row your own canoe
Rewind a decade and you'd struggle to find a venue that didn't offer a package deal, with everything from chair covers to fizz rolled into the hire price. But engaged couples in 2020 don't like the one-size-fits-all approach.
Follow the lead of River City star Holly Jack who married Ben Morgan at The Cow Shed, Crail, a converted farm steading.
Something new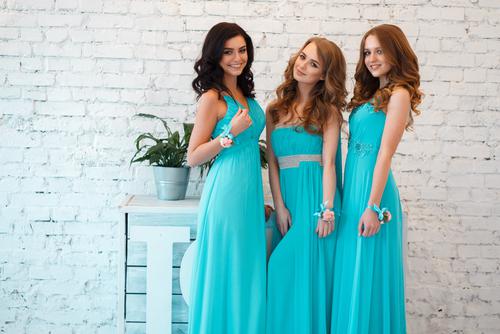 Pantone has announced Classic Blue as its colour of the year, a serene shade that calls to mind the colour of the sky between dusk and midnight.
It'll be a key colour this year for bridesmaid dresses, particularly as wedding colour schemes progress from the pastel palettes of yore to rich jewel tones.
Plus it's got the added benefit of doubling up as a bride's something blue. Couples may be turning their backs on many traditions, but some will always stick.
So suit me
White suits are firmly on the style agenda with besuited Bianca Jagger getting hitched to Mick in St Tropez in 1971 a major inspiration, while jumpsuits are enjoying a moment, too.
Meanwhile, grooms are making as much effort with their outfit now as brides. About time, too.
This year, the popularity of rustic venues will inspire grooms' attire.
"These weddings usually have themes of ecology and sustainability," says Kris Dziewiatkowski, menswear manager at Walker Slater.
"They're laid-back and intimate, and grooms who have weddings like that favour colours such as bracken and forest green, which introduce a bit more warmth to the wedding's overall colour palette."
You'll also spot a shift towards heritage fabrics. Think herringbone suits, and kilts paired with Harris Tweed jackets.
Meals on wheels
Buffets and barbecues have become more commonplace at weddings recently as couples shun the traditional three-course meal in favour of informal dining.
Candy carts and ice cream vans have been mainstays on the wedding catering scene for a while, replacing the standard canape trays. But in 2020 we'll see a far greater variety of specialised food and drink trucks.
Think of your favourite snack or tipple and there's guaranteed to be a truck that can rock up to your wedding and serve it exclusively.
Pizza, tacos, pakora, margaritas – the world is your oyster!
Animal magic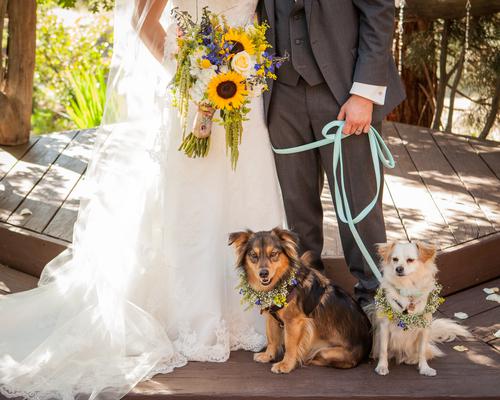 Pop an antihistamine before attending any weddings, because chances are you'll encounter a hairy, four-legged guest.
Couples are increasingly involving their dogs in their big day, whether their pooch canters up the aisle in a custom-made kilt or joins in the family photos.
This is fairly pedestrian, however, compared to the recent craze for hiring alpacas to come to your nuptials. Yes, you read that correctly. This trend originated in Japan (where else?) and has become inexplicably popular in the UK, where alpacas take on the role of ringbearer.
The dark side
Good news for women not keen on the natural make-up so often expected of brides: this year it's time to get adventurous.
"Brides are going bolder with their choices in lipstick or eye make-up," says bridal make-up artist Leslie Sneddon. "I've had more requests during trials for full smoky eyes with dark, chocolatey browns and darker shades of lipstick such as burgundies and plums."
Make-up artist Sarah-Jane at Mitchell and Macinnes Makeup says that shimmery cosmetics are popular too. "It can be anything from a hint of a subtle sparkle pressed, to something more eye-catching like glitter liners," she says.
Green weddings
The generation of millennials getting married right now are trying to be more mindful about sustainability, so expect a rise in the number of eco-friendly weddings. They'll be looking at the venues that make a concerted effort to protect the environment, hiring florists who use home-grown flowers rather than imported blooms and, like Princess Eugenie, banning plastic from the big day.
Local, seasonal produce will feature more heavily on menus and veggie meal options will become more imaginative to appeal to a rising number of vegans."
Cut and dry
Ever since American singer Mandy Moore walked down an aisle lined with feathery plumes of pampas grass, there's been an explosion in the use of dried flowers and grasses in wedding décor.
This year you'll see multi-textured bouquets and floral centrepieces bursting with fluffy bunny tail grass, woolly craspedia and soft wheat sheaves. Sprigs of lavender will be tucked into napkin rings and guests will feast on buttercream-coated wedding cakes adorned with edible pressed flowers.
This article was originally published on sundaypost.com