Thanksgiving is a time to celebrate abundance, health and family, so it is the perfect time to focus on the health of the environment — the land that sustains us and makes the holiday possible in the first place. Enjoy your celebration and give back to nature at the same time with these sustainable tips for the upcoming holiday. Remember that each small step has an impact, so look for ways you can make easy, eco-friendly swaps throughout your Thanksgiving festivities.
Decorate naturally
It's fun to bring out the fall decor, bursting with color and scents of the season. But before you head down the pumpkin spice aisle at the local store, consider ways you can decorate naturally instead. Pick up gourds and pumpkins for the porch as well as a hay bale and corn stalks to complete the vibe. Everything can go into the composter later in the season for zero waste.
Inside the house, craft some homemade grapevine wreaths embellished with mini pumpkins, pinecones, nuts or berries. Take the kids out to collect colorful leaves, acorns and rocks. Press the leaves or put together a Give Thanks paper banner, with each letter spelled out in natural materials.
For centerpieces, carve out pumpkins and insert candles or fill a traditional cornucopia of edible goodness. Alternately, use colorful, clear or reflective metal bowls of produce such as lemons and limes, squash or apples.
Travel less
Thanksgiving is one of the biggest travel holidays of the year. The impact of those trips leaves a heavy carbon footprint on the planet. With the fuel emissions of planes and cars, the easiest way to celebrate the day sustainably is to remain close to home. Use the holiday as an opportunity to volunteer at a soup kitchen or gather coworkers and friends without plans for a friendly feast.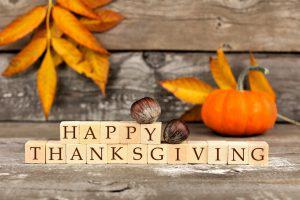 Get outside
Electronics put a drain on natural resources, too, so skip watching the football game (or at least the third one) in favor of playing your own game outside. If you do not prefer contact sports, take the crew out for a nature hike or bike ride. Tour a local park, go for a paddle or cue up the cornhole in the backyard. Not only does time outside mean you're not consuming electricity, but it's also good for your health, both physically and mentally.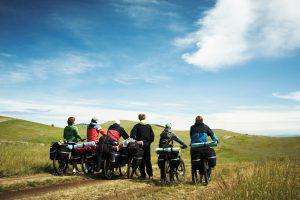 Skip single-use dinnerware
One of the simplest ways to reduce waste and pollution is to set the table with reusable plates, utensils and cups. You don't have to put out china, but skip the plastic foam and plastic-covered plates in favor of the real thing. The same goes for silverware and glasses. Yes, this means you'll have more dishes, but consider it quality bonding time with family when you work together to clean up everything.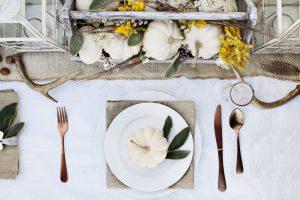 Ditch plastic
With natural decor and reusable dinnerware, your plastic consumption will be low, but also look out for packaging on the food products you buy, fill water pitchers instead of using bottled water and reuse small cottage cheese, yogurt or butter containers to send leftovers home with your guests.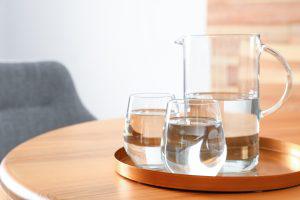 Plan your meal carefully
The Thanksgiving feast is a central component of the holiday, with Grandma's famous yams and your aunt's homemade pumpkin pie taking the spotlight. Keep looking forward to the favorite family recipes during the holiday, and supplement those must-have items with earth-friendly choices.
Make several sides of fruits and vegetables. Also, lessen the quantity of meat, a leading cause of methane pollution for the environment. If skipping the meat isn't an option for your family, reduce portion sizes and dish out bigger servings of fruits and vegetables.
When it comes to planning the feast, look to your local market or fruit stand. Invest in organic produce and be rewarded with wholesome food that didn't add toxins to the planet in its journey to your plate. In short, buy local, organic foods as the best choice for the planet.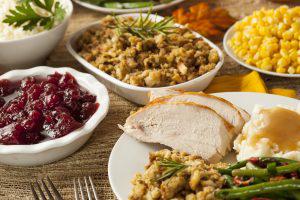 Freeze and reheat leftovers
Many of us correlate the holiday with overindulgence, and it's sometimes hard to avoid when everyone brings their favorite foods. Try to avoid waste upfront with realistic quantities of foods, and do your part to practice self-control when it comes to overeating. Once the meal wraps up, make use of leftovers with a second dinner. Invite friends or colleagues over on Friday for a Friendsgiving. You could also take leftovers to work to share. If everyone is burned out on turkey, throw it into the stock pot along with the leftovers from the vegetable tray for a delicious soup. Another option is to freeze leftovers for a later date.
Celebrate the season and the planet with a plan to reduce plastic consumption, limit the impacts of travel and avoid food waste. Happy Thanksgiving!
This story originally published on inhabitat.com