Hallways, usually busy thoroughfares, are important spaces to decorate in the home – and for Christmas, attention turns to creating a warm, festive welcome.
'The hallway really comes into its own at Christmas time,' says interior designer Julia Kendell, who suggests getting your hallway organised from the get-go. 'It's all about creating a welcoming environment in your entrance hall and as people arrive they will really feel the Christmas spirit.'
Definitely not a space to be neglected, here we suggest some hallway Christmas decorations and styling tips to help you transform your space.
1. Set the scene Remember, first impressions count, so think about the first thing you want your guests to see. 'Create a warm and welcoming entrance with candles in lanterns or tea lights in a jar,' suggests Julia Kendell. 'Even outside the house you can have a pretty welcoming sign, or lanterns leading up to the house.'
2. Wreaths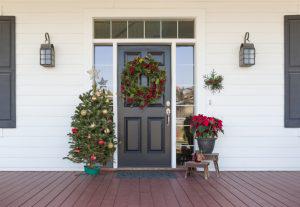 Decorating your front door and the exterior of your home at Christmas is a must, but don't forget to dress your interior doors too! Seeing as the hallway leads to all rooms in the home, you could pop a wreath on the back of the front door, plus the living room or kitchen door.
Or, you could place a wreath within your entrance hall, such as at the top of your mirrors or at the end of your bannister.
3. Mood lighting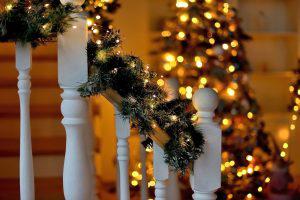 With the nights already drawing in and winter on the horizon, it's a great opportunity to play with creative mood lighting for your hallway.
'Warm-toned lighting is perfect for the colder and darker months as it creates a cosy atmosphere, which your loved ones are sure to appreciate as they relax in your home on Christmas Day,' says Nick Acaster from Stair-Rods Direct.
'Why not choose warm, yellow-toned lights that'll add an inviting feel to your hallway? If you prefer white-toned lights for your tree, these could also work nicely in mimicking a colder environment, which is perfect if you're looking to create a cooler, North Pole-style entrance.'
Micro lights work well in this setting too, as they're subtle and pretty. You could use LED tea lights to dress your console table, while taper candles look gorgeous in front of mirrors, says Lights4Fun.
4. Dress your staircase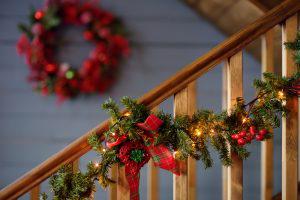 The staircase is a focal, if not the main, fixture in your hallway, so use this to your advantage and make sure it's looking super Christmassy. Our first recommendation is to deck the halls with a Christmas garland.
'There are plenty of ways you can do this, but with Google Trends data showing that searches for "Christmas garlands for stairs" has risen 50 per cent over the past 12 months, this could be a great place to start with your festive décor,' explains Nick Acaster. 'You can add an extra festive touch by wrapping some fairy lights round the bannister along with it. If you'd like to make something totally unique, you could even make your own from things you collect on your daily walks, such as leaves and pine cones.'
The team at Lights4Fun also suggests choosing a garland that matches your theme. 'For a chic and fresh look, choose white berry eucalyptus or for a more traditional feel, opt for pine and berries,' they advise.
If you have any spare or loose baubles or tree decorations, work your way up the stairs and tie these along the handrail – it'll look ultra festive.
Looking for more staircase ideas? Consider dressing up your staircase with a stunning stair runner and some polished stair rods. 'They'll add some sparkle to the festive season and will be a beautiful addition to your home in the long term,' adds Nick. 'Finish off with some artificial tea lights going up the staircase and you'll have created a beautifully festive feel.'
5. Rich colours 'Rich colour can make a space feel luxurious at any point of the year, but during Christmas the opulent look comes into its own,' says Anna Del Molino, Buyer, Carpets & Rugs at Carpetright. 'Hallways are a perfect place to start and can effortlessly create an invitingly festive feel when you enter the home. Red and green are typical Christmas shades but by opting for styles with stripe or patterns your space will remain on trend year round.'
6. The console table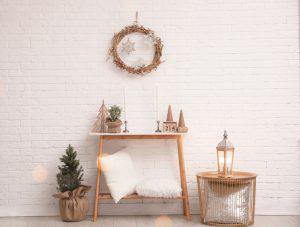 Have you got a console table or sideboard in the hallway? It can be a great base for decorating, and it's not exclusive to the holiday season either.
'Whenever I design a home, whether mine or a clients, I try and find a place for what I call a central table,' says Davina Stanley, creative director PAPER+WHITE interior design and art consultancy.
'At Christmas they call out for perhaps another tree. At Halloween, a pumpkin display. At Easter, huge vessels with spring blooms. At family birthdays, loaded with cards and gifts. If you only have the time or inclination for just one project make it this one. It's the perfect considered and effective way to set the tone for whatever the season.'
7. Create your own Christmas-themed bunting Crafting has been big during lockdown, so why not continue your creative streak and make some festive decorations too? It's also a great way to reduce your environmental impact during the festive season. You could try making your own bunting. Cut out festive shapes like trees, snowflakes and snowmen from sturdy cardboard, paint them, then create a small hole at the top of each one and thread through some ribbon or string.
8. Set up an additional Christmas tree If you have the space, it's definitely a great idea to place a Christmas tree in the hallway. And, it really doesn't have to be as large or extravagant as your living room tree. There are some great slim Christmas trees to invest in, or even small Christmas trees that you can pop on a console table.
Welcoming guests • There are some key factors to consider before you welcome guests through your front door this Christmas.
Up to three households will be able to meet during a five-day Christmas period (23rd to 27th December). In line with government guidance, everybody in a Christmas bubble is responsible for taking clear steps to prevent catching and spreading the virus.
'You should reduce unnecessary contact with people you do not live with as much as possible in the two weeks before you form your Christmas bubble,' the government advise. 'If someone is in your Christmas bubble, you can visit each other's homes and stay overnight, including in private rented accommodation.'
In light of the coronavirus pandemic (COVID-19), you and your guests should wash hands frequently, and you should also take extra precautions to clean touch points regularly, such as door handles and surfaces. It is also advised that you let in as much fresh air as possible by opening doors and windows.
If you are welcoming guests into your home, here are some useful tips:
1. Declutter your hallway 'There's nothing worse for guests to arrive and feel that they're arriving into somebody else's clutter and that there's not enough space to put their own things,' says Julia Kendell.
2. Clear your console table and coat rack 'Because people arrive with gifts and bottles, I always try to make sure I've got a console table clear, and when people come in, hooks available to hang coats,' Julia explains. 'It's welcoming for guests to feel that they're not getting in the way.'
3. Make your WiFi code available 'One of the first things people ask when they come round is "what's the WiFi code?" This is particularly the case if children or teenagers come over, so I have the WiFi code printed in a frame by the front door so that there's no need for them to ask,' says Julia.
This article was originally published by Olivia Heath, housebeautiful.com.