Have you ever struggled to get your new items from Lowe's and The Home Depot delivered to your home? Or did you face difficulty in returning the faulty products to these giant stores due to a dearth of proper delivery solutions? If yes, then Haultail® is at your service. Haultail®, a rapidly growing on-demand delivery and disposal mobile app serving across the nation offer the best delivery and disposal solutions.
So, whether you are buying outdoor living items from Lowe's or kitchen and dining tables from Home Depot, you can simply download Haultail® from either Google Play or App Store and hire a suitable vehicle/driver to have your new items delivered to your destination. Our drivers are accompanied by helpers in case of large and heavy deliveries. That means, regardless of the size of the product, Haultail® is here; however, the question is – is there a difference between Lowe's and Home Depot Delivery?
One major difference – Haultail.com is a delivery partner of Lowe's, meaning, if you ever purchase a product from Lowe's, you can avail of our Demo Bags® that can be used for delivery, for free. Our demo bags are available in hundreds of Lowe's stores across the US.
On the other hand, Haultail® does not have the Demo bags® available at The Home Depot; meaning if you choose to hire us for delivery from The Home Depot to a specified location, you wouldn't have access to our Demo Bags®. Although, whether we haul products from Lowe's or Haultail®, our service quality is uncompromised and remains the same. Why? Because we are guided by our principles of emphasis on superior customer experience and not just who we are partners with.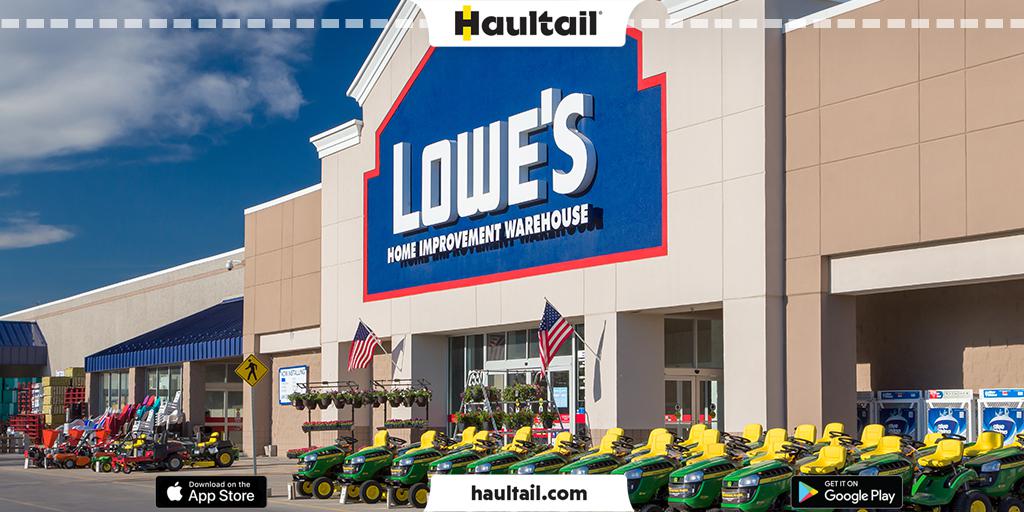 How to Process a New Store Delivery of Purchased Items?
Ordering the delivery of newly bought products from Lowe's or The Home Depot is extremely simple for Hautail® users. Here's the process for first-time users to follow; although it looks to have several steps, it can be completed within a few seconds.
Step 1: Download Haultail® from Google Play Store or Apple App Store
Step 2: Sign up as a customer on the mobile app
Step 3: Once done, create a new job by clicking on "Create New Job"
Step 4: Select Items and then click on New and Retail Items
Step 5: Choose the Item Size (small / courier/grocery/documents, etc. or Midsized to Big & Bulky)
Step 6: Choose the Date, Provide a Description and Select the Store
Step 7: Add the address of the store pickup location and the drop off location
Step 8: Communicate with the driver and make the payment
That's it. You are done. You can then track your delivery in real-time.
Whether you buy from Lowe's or The Home Depot, there is no significant difference in our delivery experience; except that for deliveries from the former, you would get our Demo Bags® to use for free, and from the latter, you wouldn't. Also, like mentioned above, the download and usability remain the same irrespective of where you buy your new products from. Try our Haultail® service now and get the best delivery service available in the market.