Solving the last-mile delivery problem is essential for the growth of on-demand services as companies, much like Haultail® look at autonomous options.
In an interview, Matthew Johnson-Roberson, CEO and co-founder of Refraction, shared how low-cost and lightweight robots can help.
Refraction creates robotic platforms that focus on last-mile goods delivery in urban areas. Its REV-1 is a lightweight and low-power autonomous delivery robot that meets e-bike regulations. The robot can use bike lanes, but it is still fast and nimble enough to operate in traditional car lanes and move through the world without impeding traffic.
REV-1 is similar in size to an electric bicycle and is 5 feet tall. It weighs about 100 pounds and is 30 inches wide. The robot can reach a maximum speed of 15 miles per hour with a 5-foot stopping distance. It has 12 cameras, radar and ultrasound sensors that can observe the environment.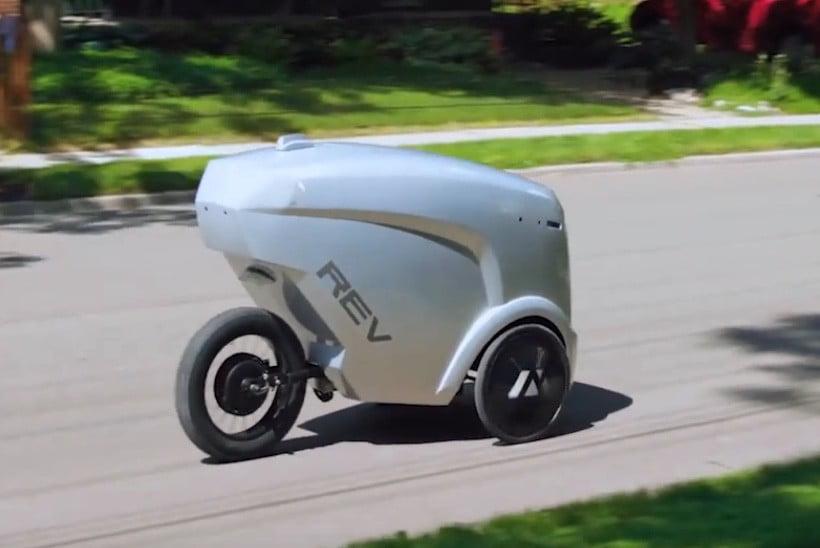 Source: TechNewsBoss.com
"The REV-1 is designed to transport goods from places like restaurants, pharmacies and grocery stores and deliver them directly to your house. The inside of the vehicle is 16 cubic feet and can hold approximately four or five grocery bags. The REV-1 model does not currently have a temperature control system; however, it is insulated and we have the capability to add temperature control if a client should request it," Johnson-Roberson says.
When the REV-1 makes a delivery, it is designed to keep the items secure. The REV-1 makes one delivery at a time to make sure all the items inside the robot are safe until the delivery arrives at its destination. Once it arrives, the recipient receives a keypad code sent to their mobile device and can then unlock and retrieve their goods.
"Increasing expectations for on-demand goods raise the need for a consistent, reliable and economical solution to deliver on those expectations. Our first test application is with restaurant partners, and we expect to expand across the gamut of last-mile delivery, beginning to grow the pilot program in the next six months," Johnson-Roberson shares.
The market for this type of service is large and growing, especially in densely populated areas. Autonomous vehicles are slowly becoming more common. Nevertheless, pedestrians and cyclists are some of the most vulnerable road users, and the ability of autonomous vehicles to interact with them is one of the great open challenges left to solve. REV-1 is designed to share the environment with everyone without putting anyone at risk.
"We hope to build something that people enjoy interacting with and also want to use to take more full-sized cars off the road. As a zero-emissions electric vehicle, we think finding ways of reducing environmental strains on our cities is critical to furthering acceptance," Johnson-Roberson says.
Original story from Forbes