Almost everything you need for Christmas is waiting for you there, minus the stress.
So hopefully you decided last year that next Christmas would be different. You vowed you wouldn't spend as much or get into debt. You promised yourself a simpler Christmas.
And now, as you get closer to the holidays, your heart palpitates and your credit card has started to tremble with fear (or excitement) in your wallet.
But guess what? You can have a gorgeous and thrifty Christmas and no one will know any different. Your friends and family will load you with compliments on how amazing your house looks and you'll just smile and say, "Thank you!"
I have a white Christmas tree my sister found for me over ten years ago at a grocery store post-Christmas sale. I love it. I call it my Thrift Store Tree as almost every decoration on it comes from a thrift store. You'd never know it.
When people come to our home they rave about how beautiful the tree is. It's decorated completely with silver, white and crystal and loads of clear lights. I'd give Martha a run for her money.
Here's the shocker. Almost 80% of the Christmas decor in my home is from thrift stores. This year, release any weirdness or doubts you have about setting foot in a thrift store or charity shop. You don't have to park three blocks away or hide your car. Imagine being able to shop for almost all of your
Christmas needs and only spend $100 or less?
Yes, I thought that might get your attention.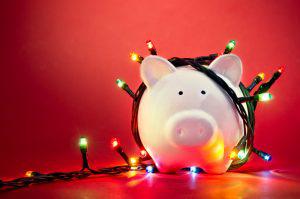 How to Save Money Buying Secondhand This Christmas
First of all, start by choosing one of the bigger thrift stores in your community. When you walk through the door you are going to be surprised at how bright it is, well organized and how it feels, weirdly, just like any other store.
Thrift stores are an amazing source of holiday decorations, and you'll spend far less than anything you'd find at a dollar store. I can't begin to tell you how many things I've bought that were from Anthropologie or the Pottery Barn but $1.00 in a thrift store.
If you go to the thrift stores in December or earlier, you can find a $400 artificial Christmas tree for usually $20 or less. You'll be able to find a tree of almost every size even if you went today. I kid you not. Most of the decorations in the thrift stores are brand new or gently used, too.
You'll also discover brand new packages of dinner napkins, paper plates, placemats, candles and all of it — much cheaper than you'd ever find in a dollar store or Walmart. Gently used Christmas dinner sets are easy to mix and match and will look amazing with that $5.00 Irish linen tablecloth.
Plus, you're being good to the environment since many things don't have packaging (but are still absolutely perfect).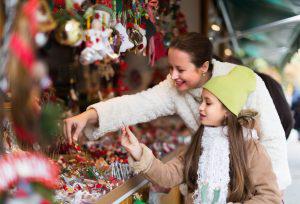 Your Holiday Outfit Is Hiding In The Thrift Store
If you're patient — you're probably going to find a couple of gorgeous outfits for the holiday season in a thrift store. Does a pair of beautifully cut Eileen Fisher velvet pants or a 100% cashmere Ralph Lauren sweater catch your eye? You can look like you wear haute couture except you bought your Christmas outfit for less than the price of two lattes. Don't even get me started on the jewellery.
Please, don't buy a brand new ugly sweater for your Ugly Sweater Christmas Party. You're missing the point entirely. Step into your local thrift store and you'll find the perfect ugly sweater within a half an hour — as long as you don't wait until too late in December. Other smart people are catching on to this stuff, you see.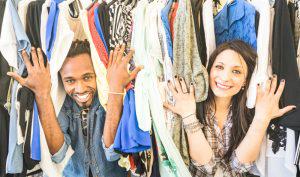 Gift bags, Wrapping Paper, Cards, and… Gifts?
Don't fall over but brand new wrapping paper, cards, gift tags, gift boxes and bags, ribbon, tissue paper, endless aisles of it, are waiting just a few minutes away from you at a thrift store. I swear, you're going to freak out with joy when you see it. And you pay far less than what you would at a dollar store. And gifts? Yes. If you're creative there are piles of gifts too. Loads of gently used toys (sometimes brand new as well), cool old records, vintage crystals and sometimes the oddest things that will be oh-so-perfect for your oh-so-odd friend.
And for the book lovers and cookbook lovers in your life?
Invite your friends for holiday drinks and hors d'oeuvres and give everyone a thrift store book they'd probably love and wrap a gorgeous bow around each one. It will be a huge hit and it cost you less than $20. Vintage cookbooks abound in thrift stores. You can find beautiful copies of Julia Child's books, the Joy of Cooking and other cookbooks from all over the world. The cook in your life would go nuts for a stack of these. And hey, they are vintage. They aren't supposed to be perfect.
That new book you wanted from Amazon? The odds are high you'll find it in a thrift store a few months after it launched. I just bought the latest Elizabeth Gilbert book for $2 and it wasn't even cracked open. Now that's something to celebrate!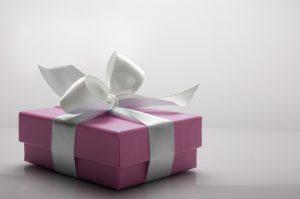 Holiday Entertainment Waits Like The Ghosts Of Christmas Past
In my family, we love doing a Christmas puzzle every year. And you know what happens to $40 Christmas puzzles after they've been completed once? That's right — they get donated to a thrift store. I haven't bought one yet that was missing a piece. People actually tape a note on the top if there is one missing.
Or maybe your favourite Christmas movie isn't on Netflix or you've chopped Netflix from your budget? If you have a DVD player (and you can buy those at a thrift store too), there are piles of lovely Christmas movies and music CDs of all your holiday favourites. The Charlie Brown Christmas Special, The Grinch, Miracle on 34th Street or A Christmas Carol? The thrift store has your old-school favourites covered.
Whether you want a Christmas full of sparkle and glitz or a humble Christmas with brown wrapping paper and homemade gifts, start at a thrift store.
What you want is easily found, and you can skip with joy out of the store to the car that you parked three blocks away. I bet you'll park closer next time.
This story was originally published  on Medium.com