From minimising food waste to wrapping with recycled paper, the model shares her guide to an eco-conscious Christmas
As we approach the holiday period, I'm getting nervous. I know this is a time of celebration, love and family, but for many years I've felt these things have been eclipsed by spending, queueing, anxiety and exhaustion.
It's a sad fact that the most wonderful time of the year is often the most wasteful. We generate about 30 per cent more waste over the holidays, throwing away more than 100 million black bags, two million turkeys, 74 million mince pies and five million Christmas puddings. Much of this going to landfill, putting toxins into our soil and releasing harmful greenhouse gasses.
Rampant consumerism is engrained in our society, but it is totally unsustainable. While it is the obligation of businesses to offer better, greener alternatives, the small changes we all make individually can make a big difference collectively.
This year has been a watershed moment for climate action. We have all been struck by the 'Greta Thunberg effect' , protests have been held in major cities from Mumbai to Montreal, 'climate strike' took over from 'single use' as Collins Dictionary's word of the year, and every restaurant chain from Greggs to Franco Manca now has a vegan option. More people than ever are waking up to the impact they have on the world around them and want to do something about it.
But at Christmas, this can be difficult. The festive stresses – whether it be fluey children, grumpy in-laws, last minute gift shopping or catering for everyone's new dietary requirements – means that eco-friendliness can quickly become less of a priority.
This year, I want to read, laugh and sing. I want to light (non-toxic) candles. I want to cook my family the food they love and I want my children to experience the quiet, still magic of winter air. I also want to be as sustainable as possible, so here are a few things that I'll be adopting …
Go plastic free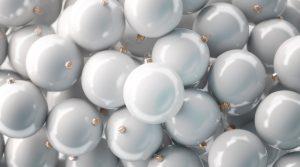 It's been so encouraging to see everyone's commitment to reducing their plastic use over the last few years, but it is still everywhere – especially at Christmas, with all those unnecessary toys, decorations, crackers and bags. So much of this ends up in the trash, contributing to the eight million tonnes of plastic that is dumped into our oceans every year causing lasting damage to our greatest natural resource. It is almost impossible to be totally plastic free – trust me, I have been trying- but it's amazing how much you can cut down. This Christmas I'm avoiding wrapping paper, instead giving my baby wooden toys – which are much nicer to have around the house – and ensuring I buy my fruit, vegetables and turkey from independent shops who don't use wasteful, single-use packaging.
Minimise food waste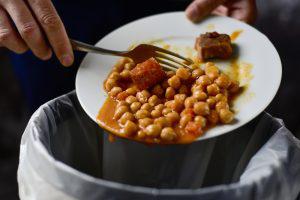 While plastic pollution is a more obvious environmental issue, food waste has devastating impacts on our world. When sent to landfill, it produces methane which is way more potent than carbon dioxide as a greenhouse gas. It also generates about eight per cent of global green house gas emissions every year. If food waste was a country, it would be the third largest emitter after China and the US.
Thinking ahead and making meal plans means it's so much easier to know exactly how much food to buy and to avoid waste. If something isn't going to be used, freeze it.
Gift sustainably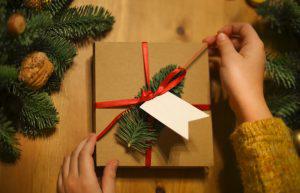 There are loads of ways to give thoughtful, sustainable gifts that don't cost the earth. With fashion under a microscope for its environmental impact, the stigma against second hand is quickly becoming a thing of the past. You can find the most amazing and unique gifts from your local Oxfam, on eBay – where I got most of the vintage furniture for my home – or online at pre-loved luxury sites like Vestiare Collective.
If you have to buy new, think of more sustainable gifts like reusable coffee cups or water bottles – both very on trend this year – homeware made from recycled materials, an experience, or a donation to a charity in someone's name.
Rent a tree, or dispose of your tree properly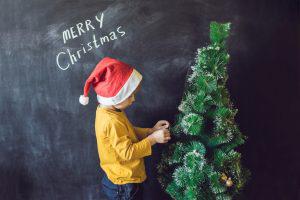 So long as you dispose of them properly, real Christmas trees are much more sustainable than artificial alternatives, which are non-recyclable and will end up clogging up landfill for years to come.
That being said, we use as many as eight million natural Christmas trees each year and about seven million are discarded. The most environmentally friendly solution is to rent one. I am a huge fan of renting as opposed to buying new, whether it's an outfit for a Christmas party or ski equipment, so I was delighted when I found out you could do the same with trees. A number of companies will drop the tree off at your house at the beginning of December and pick it up afterwards to be replanted until next year. Win-win.
Know your purchasing power
More people than ever want to have an eco-friendly Christmas, and brands are listening. It is encouraging to see John Lewis and Waitrose commit to not selling crackers with plastic toys, Selfridges is using compostable packaging across its own brand range of Christmas food and Iceland took a stand against palm oil last year, which it announced through its heartbreaking Christmas ad with Greenpeace.
If you see something you don't like, make sure you let the brand know via Twitter or by contacting them directly. In many cases, companies are waiting to hit a certain quota of customer complaints before it make any significant changes. We all have the power to hold these corporations accountable: they all could and should be doing much more.
Wrapping paper and Christmas cards aren't always necessary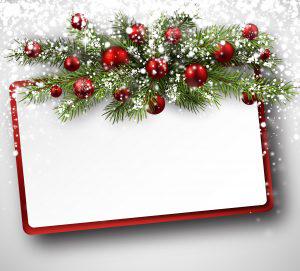 Unfortunately, very little wrapping paper is recyclable – mostly thanks to the dyes and plastic involved in making it shiny, the glitter, or the sticky tape still stuck to it. If you have to, opt for plain, recyclable paper – which can look remarkably chic- choose a recycled roll from Re-wrapped or wrap your presents up in second-hand fabric.
When it comes to cards, although it is so nice to receive a lovely Christmas note or thank you letter, it is estimated that nearly a billion Christmas cards end up in the bin, the equivalent of 33 million trees. Much to my parents' disapproval, my son will be writing his thank you letters by email this year.
Go out in nature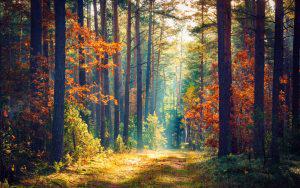 The more time you spend out in nature, the more you appreciate it and want to protect it. Living in London means it can sometimes be tricky to instil a passion for the outdoors into your children. This Christmas, I'm going to try and get my family out for as many walks as possible, to give my family some happy and important 'nature memories'. A recent study by The Wildlife Trust also suggests that an hour a day spent playing in nature is incredibly beneficial for children's well-being, it opens up human creativity just to look at a tree.
This story originally published on standard.com