Little ones may be just as excited for a virtual visit. Bonus: No long lines!
In a year when we're forced to scrap more holiday customs than we ever imagined, Santa's helpers are here to help. Businesses all over the US are working hard to save one important tradition that little ones look forward to, year after year. It's the annual visit with Santa, of course.
Like all of us, Santa has been advised to stay home to stay safe. But that doesn't mean he can't still check in on who's been naughty and who's been nice. We've made a list (and checked it twice) of creative options for seeing Santa in 2020.
Cameo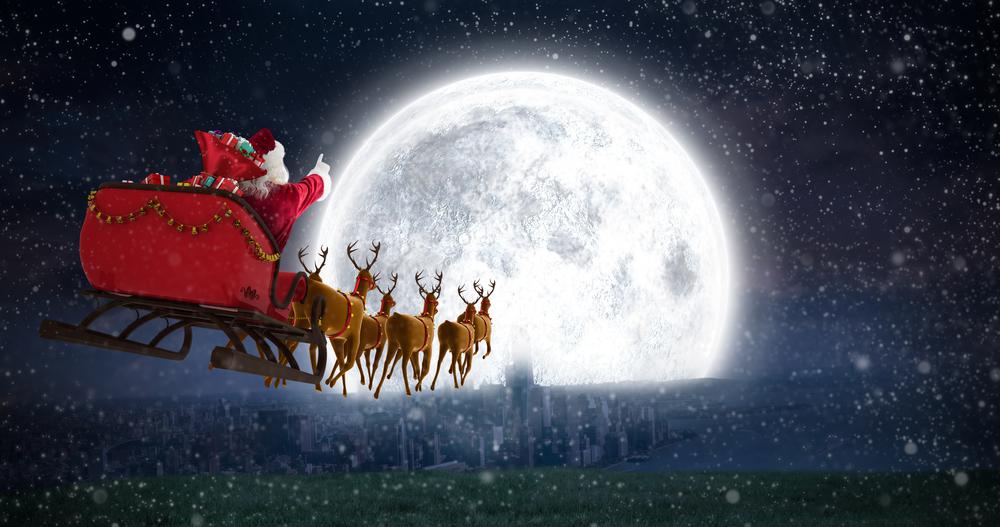 This year, the popular video-sharing app that allows celebs to send personalized messages has partnered with the biggest celeb of the holiday season. Parents can choose between classic Santa, Spanish Santa (he is fluent!), Black Santa, Puppet Santa, and even Bad Santa… though that last one might be better suited for a grown-up friend you already know is on the Naughty List.
Details
Santa options: 12 Santas available, varying in style. The company will be adding several more throughout the holiday season with varying images, routines, twists, and prices.
Price range: $26 to $75
Length of Cameo: Typically 90 seconds
Advice: Cameo's recommends letting Santa know the child's Christmas list before they create the Cameo. "It turns it into a magical experience for the recipient," a rep said via email. "It is also cool for Santa to know what the kids want without them going and sitting on their lap to tell him like they usually do."
Macy's Santaland
The retail giant has created an online portal to Santaland that is sure to keep the magic alive. According to the site, children will be able to travel virtually through Macy's Santaland at Herald Square in New York City, meet the Elves, engage with different areas of the magical space, play fun games and finally meet St. Nick himself via an interactive video. Children will also be able to take a selfie with Santa at the end of the virtual visit and will be able to download their Santa selfie immediately following the picture opportunity. We think that's the perfect excuse to re-watch of Miracle on 34th Street and look forward to next year.
Details
Santa options: Before kids begin their journey through Macy's Santaland virtual experience, an adult will need to select their Santa experience from the diverse options available, according to the site.
Price: Free
When: Nov. 27 through Dec. 24, 2020
Reservation required: No
Nordstrom
According to the team at Nordstrom, Santa's exact words about this year's canceled kid visits were, "But I need to speak to every one of them! Have them call me." Parents can book a 15-minute video call for $20, with 100% of proceeds supporting one of three charities. The Nordstrom site features a few other ideas on how to celebrate virtually and at home, too, including with their own print-out activity sheets and special stationery for VIP letters to Santa. Finished letters can then be e-mailed or dropped off curbside at participating Nordstrom locations.
Details
Santa options: Adults can choose from multiple Santas, including Latinx (who is speaks English and Spanish), Black, Asian American (who speaks English and conversational Japanese), a white Santa, and an American Sign Language white Santa.
Length of Santa Video Chat: 15 minutes
Price: $20, with 100% of proceeds benefitting Operation Warm, Big Brothers Big Sisters of America, and Big Brothers Big Sisters of Canada
When: Fridays, Saturdays, and Sundays Nov. 27 through Dec. 20, 2020, 9 am to 3 pm PT
Reservation required: Yes, adults can choose time slots when purchasing the Santa Chat.
JingleRing
JingleRing is a true child of 2020—the company was created by a team from Santa's Fantastical and PictureU, who have 10 years of experience coordinating in-person Santa visits for over 30 million people. Custom designed to feel like a live virtual call directly from the North Pole, JingleRing starts at $19.95 and includes a free video recording and picture from your chat.
Details
Santa options: The company is offering a diverse group of Santas to meet your ethnic, faith, and language (including ASL) preferences, including Sensitive Mr. and Mrs. Claus for families with children who have special needs, according to their site.
Length of Santa JingleRing: 10 to 20 minutes on average for a live JingleRing. Pre-recorded Santa visits are generally between 2 and 3 minutes long depending on how many children you have.
Price: Live JingleRings start at $24.95, and personalized pre-recorded JingleRings begin at $19.95
Reservation required: Yes
Operation Santa by USPS
Ok, so this one isn't a call, but it's still super special. For 108 years, the United States Postal Service has partnered with Santa's helpers all over the US to respond to letters to Santa. And like most things this year, part of it is going virtual. Send your letters to Santa Claus at 123 Elf Road, North Pole 88888, and one of his many helpers may respond in kind. Alternatively, if you want to volunteer as a helper, Operation Santa's official website has more details.
Your Local Mall While a virtual visit is the safest way to meet with Santa this year, local malls are trying their hardest to find creative solutions. Cherry Hill Mall in New Jersey, for example, is offering special reservations and enacting major safety protocols for their Santa visits. Others are creating photo opps that keep children six feet away from Santa, and some places will keep Santa behind a plexiglass screen. If you really can't imagine a holiday season without an in-person chat with the big guy, it might be worth seeing if your local mall or other small businesses have their own COVID-safe plans in place, too.
Whether your visit with Santa is virtual, live, or through a special letter, it's sure to spark joy. Here's to making sure our children still get to share their hopes, dreams, and proudest moments as we close out 2020.
The article was originally published by Ashley Chalmers, thespruce.com