Rad Power Bikes has made a name for itself producing super-affordable, super-practical e-bikes, and business is going absolutely gangbusters. Now, the company has introduced its most affordable bike yet – the stripped-back, simple RadRunner urban getabout, and it's upgradable to carry passengers or a heap of cargo.
The Seattle-based company is growing at breakneck speed, going from 30 employees just 14 months ago to around 130 today, and 210 by the end of the year. According to founder and CEO Mike Radenbaugh, it's already captured about half of the entire US e-bike market, and is scooping up another 5-10 percent each year. "Five years from now," he told us over a Skype call, "the vast majority of e-bikes sold in North America will be through our company."
Radenbaugh's recipe for success? Forget the early adopters. Make affordable, practical and simple bikes for the 99 percent. Drop fancy, expensive features in favor of bigger batteries, and offer customers a basic machine that they can spec up with accessories to suit the way they want to use it. The RadRunner, he says, is "a culmination of everything we stand for."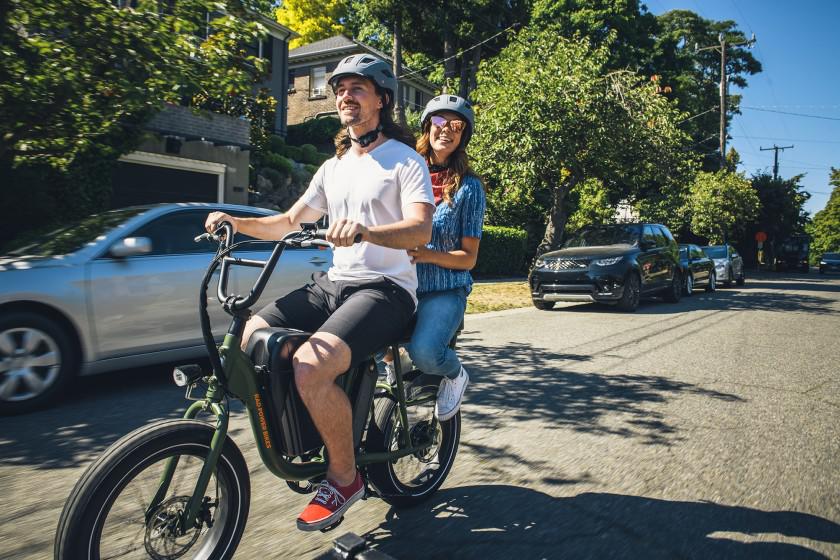 It ain't light or fancy, but the RadRunner is cheap, practical and modularRad Power Bikes source: NewAtlas.com
Where the RadRover is an impressive deal at US$1,499, the RadRunner takes things to another level, retailing for just $1,299. It's a chunky looking mini moped of a thing, with a step-through frame, battery on the downtube, integrated front, rear and brake lights, fat 20-by-3.3-inch heavy duty Kenda tires, a centerstand and a rock-solid rear rack. Total carrying capacity is 300 lb (136 kg) with up to 120 lb (54.4 kg) on the back rack.
It runs a 750-watt geared hub motor, with a throttle and cadence-sensing pedal assist. The battery is a decent-sized 48-volt, 14-Ah removable unit with a 672-Wh energy storage capacity that's good for an urban range between 25-45 miles (40-72 km).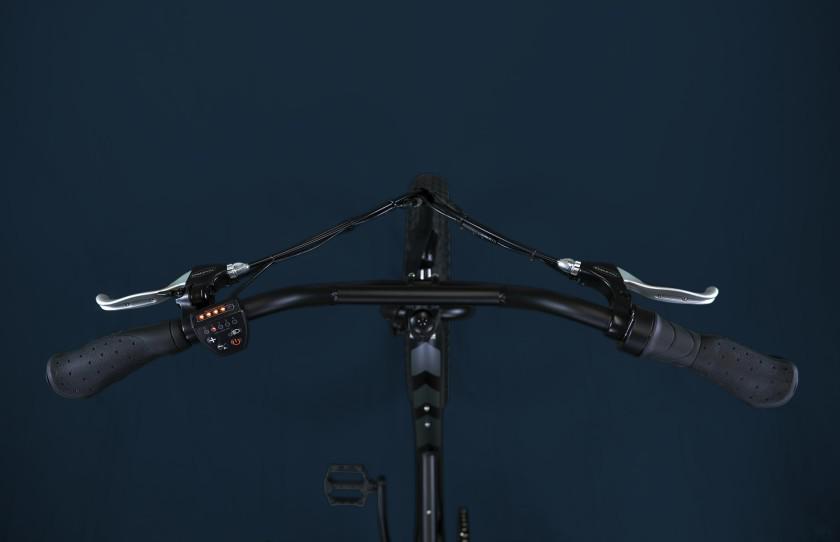 Super-clean handlebars, as the LCD dash is replaced by a simple two rows of five LEDs for power level and battery levelRad Power Bikes source: NewAtlas.com
More interesting, though, is what it hasn't got. There's no speedo or dash per se. Instead, there are two simple rows of LEDs denoting your charge level and pedal assist level. "You're always going around 20 mph (32 km/h), because that's the federal legal limit here," says Radenbaugh. "A speedo didn't make a ton of sense. You're not fitness cycling, you're just enjoying the ride. Maybe listening to a podcast, you're just cruising to work, picking your kids up. We found customers are totally willing to forego a speedometer for a lower price point."
Likewise, there's no gear shifter – the RadRunner is a single-speed. "The throttle can get you up to speed easily," says Radenbaugh, "and then you can let off the throttle and just use the pedals to cruise. With a cadence sensor, you don't always have to be pressing hard on the pedals to get torque out."
Accessorizing the RadRunner
Rad Power Bikes is going nuts with accessories for this thing. Radenbaugh tells us he anticipates the most popular ones will be the Rad Center Console – a cargo bucket that attaches to the front frame, and can run with or without a lid, and the Passenger Package, which puts a padded rear seat on the back rack. Each of those will set you back $99. There's also a universal front rack, big delivery boxes, and everything else in the company's accessory catalog should fit too, including kiddie seats, mudguards, panniers and whatnot.
"This thing's for bashing around town," says Radenbaugh. "Throwing your five year old on the back, picking up your significant other or some groceries. You're going to be carrying people, things, gear, going over rough terrain – cycling infrastructure here in the US and even in Europe, you're talking cobblestones, train tracks, rough roads.
"So we aim for comfort, super big batteries, high wattage output and utility. That's our focus, that's why our bikes look different compared to most e-bikes that are geared towards light weight, mid drives, pumping out every inch of efficiency possible. Ours are somewhere between a moped, or a scooter, and a bicycle."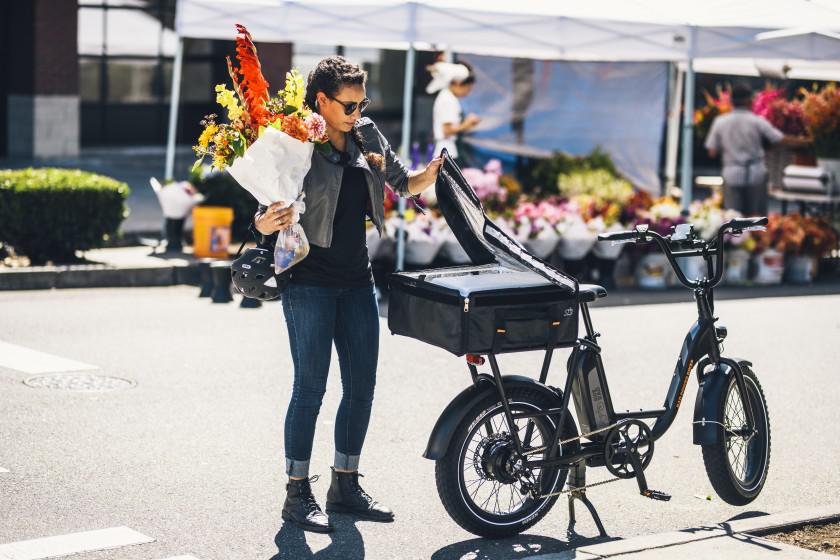 Rear rack can carry up to 120 lbsRad Power Bikes source: NewAtlas.com
It's a strategy that's been insanely successful up until now, and the RadRunner's even lower entry price and focus on modular utility could make it the company's biggest hit yet.
Mike Radenbaugh has some very strong opinions on two of the biggest debates in the e-bike industry – those being 52V vs 48V battery packs, and mid drives vs hub drives, and we're looking forward to sharing those with you in the coming days. Stay tuned.
Original story from NewAtlas