Wine bottles, wrapping paper and Christmas lights. Do you know what belongs in the recycling bin? The answer may surprise you.
The holidays are officially in full swing. And that means our weekends are packed with cocktail parties, wrapping presents and hosting friends and family for dinner.
But all that fun comes with a whole lot of waste.
"Typically, between Thanksgiving and New Year's Day we see about a 25 percent increase in volume or about 1,000 pounds of extra waste per household," says Jeremy Walters, sustainability ambassador for Republic Services, an industry leader in U.S. recycling and non-hazardous waste. "The good news, though, is that about 80 percent of it can actually be reused, re-purposed or recycled."
Walters recognizes that with everything going on this time of year, recycling may not be your top priority. "The holidays can be stressful. You might be hosting a party, trying to find the perfect gift, or even meeting your significant other's family for the first time! Sustainability is likely the last thing on your mind," he says. "But if you want to do the right thing, there are some things you can do to make your holiday season sustainable and care free."
While you may think that separating the recycling from the trash is a no-brainer, we were surprised by some of the items that actually have no place in the recycling bin. And an errant piece of garbage can cause more harm than you may think.
"There are quite a few items we see that either shouldn't be in the recycling bin at all or require a little extra care before being placed in your curbside bin," said Walters. "When food and beverage containers contain food or liquid residues they can ruin perfectly good recyclables in the bin, especially paper and cardboard. Lights, tinsel and other holiday 'tanglers' — as we call them — will wrap around the machinery at the recycling center, creating work stoppages, equipment failure and potential harm to our employees."
So before you commence with your holiday happy hours, decorating and gift wrapping sessions, brush up on your recycling know-how to help cut down on waste — without spending precious time Googling "Can I recycle that?"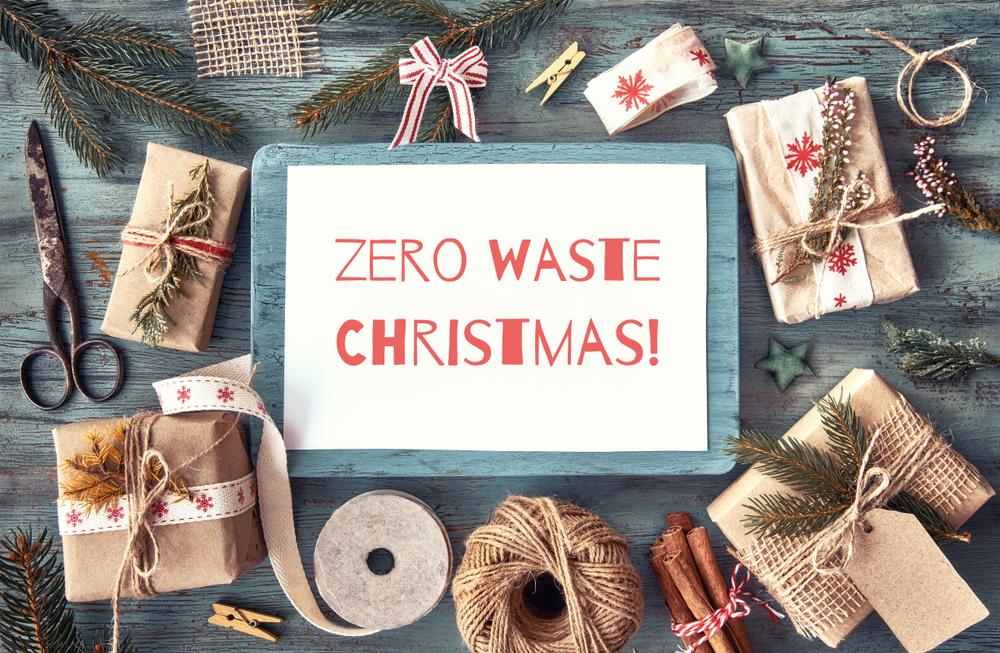 Cheat sheet: What not to put in your recycling bin
"We call this Santa's bad list. If you can't reuse or donate these items, put them in a waste container, not your recycling bin," says Walters.
Bubble wrap
Cellophane
Plastic bags (try recycling shopping bags at your local grocery store)
Christmas lights
Ribbons
Bows
Batteries (see recycling and disposal tips below)
Food packaging and waste
Clothing and shoes
Holiday lights
Electronics (see recycling and disposal tips below)
Foam packaging
Here are more specific guidelines on what you can recycle this time of year — and the best way to do it.
Holiday gift wrapping
"From mid-December to late January we see the heaviest volume coming into our 90 recycling centers across the U.S. driven by cardboard shipping boxes, gift boxes and paper (holiday cards, envelopes, wrapping paper etc.)," says Walters.
His advice when stocking up on wrapping supplies? Keep it simple: The fancier the bags or the paper, the less recyclable it becomes. "Only simple glitter-free, non-laminated paper bags and wrapping paper can go in your recycling bin. All those glitter-laden bags, cellophane wrapping paper and shiny bows are not recyclable. Save and reuse these next year. There's a longstanding tradition in my family that we save all the undamaged bags and bows after we open our gifts. Not only does this help save natural resources, it helps save some money too!" says Walters. "Wrapping paper that has a printed design is perfectly fine to be recycled alongside simple gift bags that are 100% paper. If a paper bag has ribbon or fabric handles and it isn't suited for another year under the tree, make sure to tear those handles off before placing the bag in your recycling bin."
Walters has some fun wrapping tricks that will not only cut down on waste, but save you money as well: "Try wrapping gifts in brown craft paper (which is recyclable) and add a pine cone or sprig from your tree to give your gift wrap some rustic flair while being eco-friendly. For the kids, wrap their gifts in the comic section from the newspaper. As they eagerly wait to open their gifts, they can read their favorite comic strips!"
Recycling bin:
Cardboard and paper boxes for gifts and shoes
Wrapping paper that's plain (sans glitter and embellishments)
Plain paper gift bags
Holiday cards and envelopes that don't have embellishments like glitter and glued on decorations
Sticky gift tags are not recyclable by themselves, but they are acceptable if affixed to an envelope or wrapping paper
Garbage can:
Plastic bubble wrap, air pillows and all types of foam packaging
Ribbons and bows because the material and size are not suitable for recycling
Gift bags that are laminated, coated, dyed or glittered
Cellophane wrap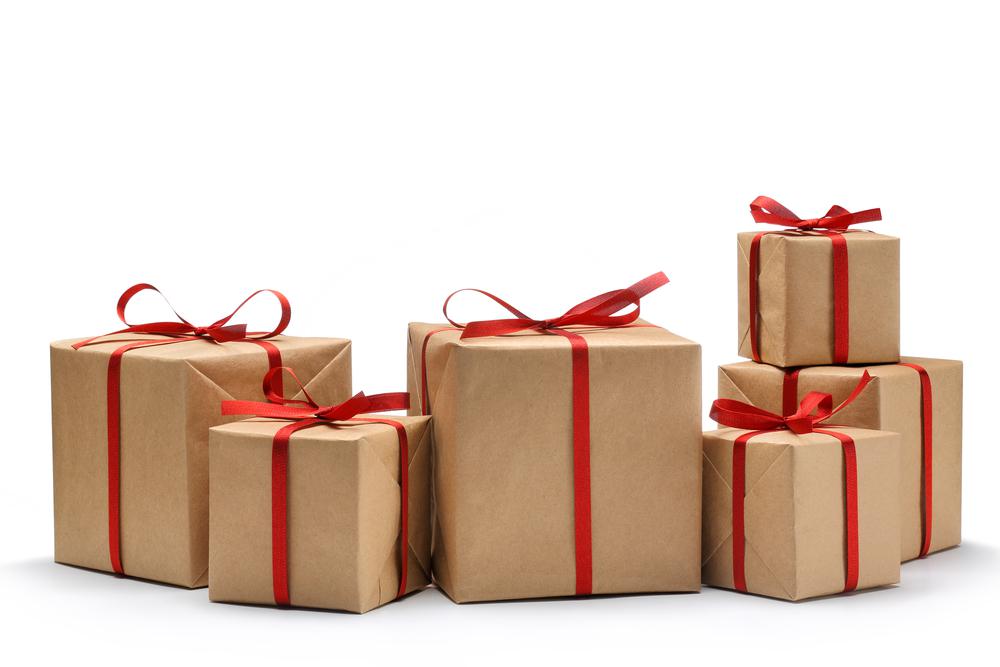 Cardboard boxes
Perhaps the most recycled item during this time of year (and let's be honest, with our Amazon Prime obsession, all year long). You would think this item is also the most straight forward. But there are some caveats to be aware of.
"Holiday season might as well be called cardboard season with all the gift packing and shipping we do," says Walters. But before you toss those boxes into the blue bin, keep a few things in mind:
Flattening the boxes will save space in the bin.
Don't put your recyclables inside the box and then in the bin. Recycling should always stay separated and loose; never bag or box it.
If you're an online shopping, all those flexible plastic packing materials — bubble wrap, air pillows — can't go in the recycling bin. Since they are flexible, they tend to wrap and tangle around the sorting equipment at the recycling center.
If a cardboard box contains other materials such as a plastic window, that plastic needs to be removed or the box is not recyclable.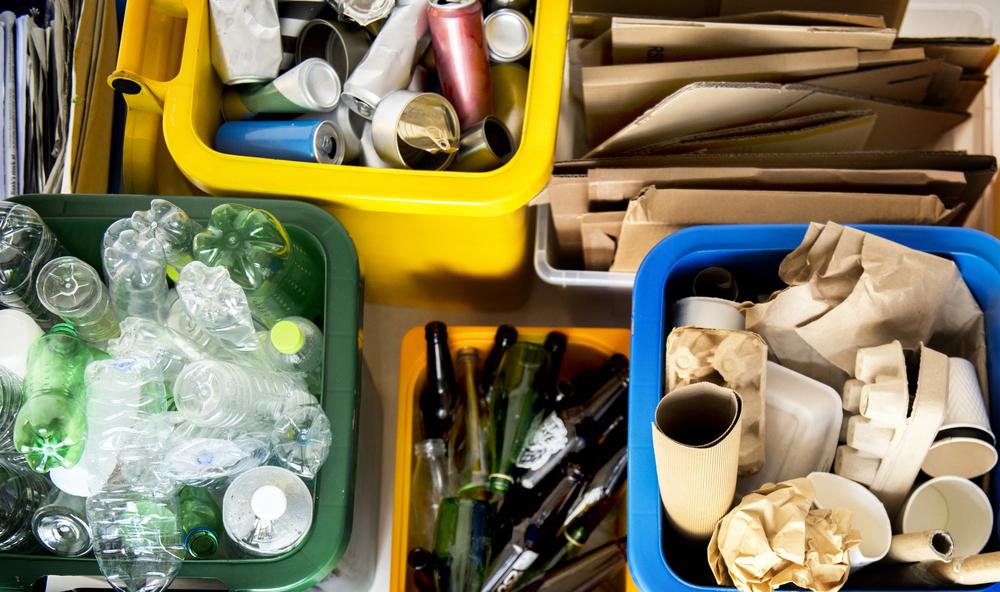 Food and beverage containers
"Food packaging is another source of recycling confusion. Holiday entertaining produces a lot of excellent recyclable items," says Walters. However, every item needs to be cleared of any food residue before it's placed in the recycling bin. "Think of a jug of eggnog: If there's still liquid inside, it should be rinsed out before going into the recycling bin. Same with cans of cranberry sauce or pumpkin pie filling," he says. "Oh, and that cardboard box you ordered that delicious pizza in after you accidentally burned the turkey? It can't be recycled either! At least not in its whole form; you actually need to cut that pizza box in half, pitch the dirty half in the trash and then you can recycle the clean half."
Plastic bottles and cans get the green light, but glass is a maybe. "Cans are the most sustainable beverage container compared to plastic and glass. Aluminum cans (soda, seltzer, juice, beer, wine and mixers) are widely accepted across the United States," says Walters. "Always check with your local recycler on the acceptance of glass. It's actually cheaper to make new glass than to recycle glass due to the economics involved. It's a heavy material and the demand for recycled glass is low."
And regardless of which of these materials your liquid or food came in, the rule is the same: rinse and dry before you place them in your recycling bin. "We encourage people to practice 'empty, clean and dry' so that residual liquid does not spill on fragile materials like paper and cardboard and ruin them," says Walters. "Simply empty any remaining liquid, clean it out with a quick swirl of water if needed, and then tap the container dry before tossing it in the bin."
Walters shares his quick guidelines to keep in mind for food and beverage containers:
Metal cans for soup and vegetables are usually recyclable unless they have an insulated interior coating.
Hard plastic containers and jugs for eggnog and cream are recyclable.
Baking and the holidays go hand-in-hand, just remember that the paper box from your favorite mix is recyclable, but not the interior bag.
Keep all thin plastics out of your recycling, including food wrap and storage bags.
Bags, wrappers and pouches are all a part of the "flexible plastic" category that wrap around the sorting equipment in a recycling center.
Put plastics to the poke test. If you can easily poke your finger through any given plastic material, it's too thin and flexible to be recycled curbside. These flexible plastics (think grocery bags) can be taken back to participating stores and retail outlets for recycling.
Last and most important, when recycling food containers, make sure they are empty, clean and dry of residue.
After the holidays: Out with the old, in with the new
"Once the holidays start to wind down, we usually see more of what we call wish-cycling. We see an influx in holiday lighting, old toys and electronics among many other items that should have been taken to a second-hand store rather than being placed in the recycling bin," says Walters. "These items may have a second life if they're still usable, but at the recycling center they'll be sorted out and taken to the landfill. These materials also are very harmful to our sorting equipment, causing equipment failure and sometimes shutdowns of our recycling facilities. Christmas lights are especially a menace because they can spool around the conveyor belts on our sorting lines and cause a lot of damage."
He encourages people to always try and keep useable toys, clothes, electronics and other materials out of the waste stream, by taking them to your local thrift store or charity drop off so your gently used items can bring someone else cheer.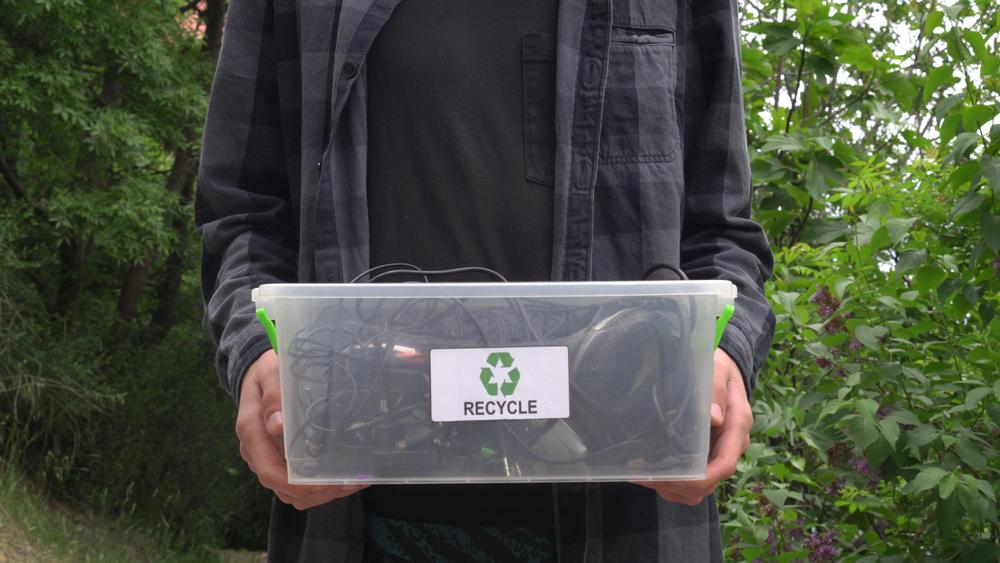 How to dispose of electronics
"New tech seems to fly into our lives faster than ever, especially during the holidays. Like many other items, if something is still in working condition, the most sustainable thing you can do is keep it out of the waste stream altogether. Donating old electronics to charity is a thoughtful way to be both mindful and sustainable," Walters says. "However, if an electronic item no longer functions, it's really important to use designated electronics recycling programs for safety reasons. If something has a battery or power cord, it doesn't belong in your household trash or recycling. Lithium-ion batteries power millions of devices — including smartphones, laptops and toys — and these batteries can explode if punctured or smashed, causing fires in garbage trucks, landfills and recycling centers."
Find a mail-back program where you order a pre-paid box and ship it back to the e-waste recycler.
Drop it at a local collection event or electronics retailer.
Donate it to charity. any local charities can make good use of working devices. National programs like Cell Phones for Soldiers and the 1Million Project repurpose your old device to help others.
General recycling tips
Don't bag your recyclables. "In most of the country recyclables must be put directly into your recycling container. The bags wreak havoc on our recycling equipment," says Walters. "Also, recycling is separated one item at a time so don't bundle recyclables into boxes and containers because they likely will be rejected and sent to landfill."
Cap it. If you want to recycle plastic lids, they need to be attached to their container, as they're too small to get recycled alone.
Size matters. If recyclable materials are smaller than a credit card, they will likely end up in the landfill or jam up the sorting equipment during the recycling process, says Walters.
Think reduce and reuse before recycling. "Investing in some fashionable dishware for the holiday season and using reusable cloth napkins is a nice way to reduce the overall amount of waste we generate," says Walters.
This story was originally published on 
nbcnews.com