Does your favorite chocolate cost the Earth, or is it as sweet on sustainability as it is to your tastebuds?
This week, the Rotten Egg Awards ranked 31 chocolate companies around the world for their performance on sustainability and human rights. And what's clear from the ranking is that some companies are doing a far better job than others of keeping their tasty treats guilt-free.
Out ahead of Easter, which this year lands April 4, the results indicate that many of the world's largest confectioners are cleaning up their act on critical issues like child labor and deforestation, most have plenty of room for improvement. And some—the eponymous Rotten Eggs—scored poorly in almost every area.
On the other hand, the top-scoring companies offer chocolate lovers new, ethical options to consider when it comes to fulfilling their cravings.
While some large firms such as Godiva and Hershey's were found wanting in many sustainability areas, smaller companies like U.S. firm Alter Eco and Netherlands outfit Tony's Chocolonely led the pack, with industry-leading policies on deforestation, child labor and transparency. Firms that declined to be included in the survey included Unilever, which owns Ben & Jerry's, along with Starbucks.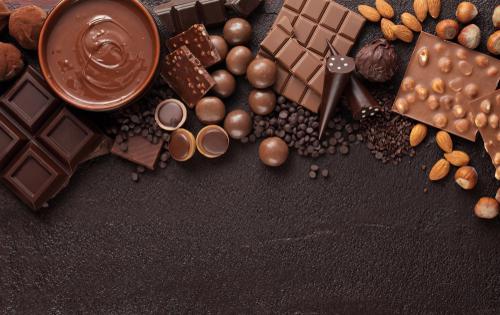 "This scorecard sets the record straight on greenwashing versus real action," said Johannes Schorling, Campaign Coordinator at Inkota, one of the NGOs that compiled the award. "Despite decades of voluntary industry commitments, poverty, hazardous child labor, and deforestation are still widespread in the cocoa sector … This corporate underperformance shows that we need robust due diligence legislation, because voluntary approaches have clearly failed."
Sugar And Spice, Not All Things Nice
The award, compiled by five international NGOs, ranked 31 companies on six sustainability and human rights metrics: due diligence, transparency, living income, child labor, deforestation, and agroforestry. Each of the six measures was marked on a four-color grading scheme, with a green egg being the best ("Leading the industry on policy") to a red egg being the worst ("Needs to catch up with the industry").
The lowest scoring Rotten Eggs were all Japanese firms: Itochu, Meiji and Morinaga ranked poorly on at five out of six of the measures; all had sourced cocoa from deforested areas in regions such as west Africa, which produces 75% of the world's cocoa. The same companies also ranked poorly in terms of policies to cut carbon emissions, as well on child labor and employee wages.
Better known in the west, Belgian chocolatier Godiva was found to have improved from its position last year when it won the Rotten Egg award. The NGOs said Godiva had made improvements in its living income policies and its environmental work, but the firm still scored poorly on child labor issues. A University of Chicago study last year found that as many as 1.6 million children are employed in the cocoa industry, mainly in west Africa, in hazardous roles such as land clearance. As well as working long hours in dangerous tasks, the children are being exposed to harmful agro-chemicals such as pesticides.
Godiva's owner, the British firm Pladis, which also owns McVitie's, scored poorly on its due diligence and agroforestry policies.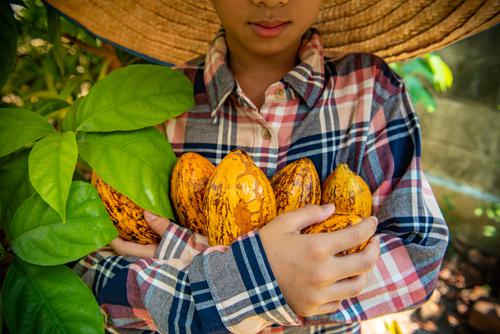 The organizers of the award noted that four companies in the sector—Unilever, Starbucks, Valrhona and German manufacturer Storck—declined to respond to the survey, leaving the firms open to concerns that they could be lagging behind all others on environmental and human rights policies.
When contacted by Forbes.com for comment on the corporation's non-participation in the survey, a Unilever spokesperson, referring to the corporation's Magnum ice cream brand, said: "In 2020, Magnum reached 99% sustainably sourced cocoa and we reached 100% sustainably sourced cocoa for all other Unilever brands. While this is great progress, we're committed to going further by working with others to tackle the endemic issues associated with the cocoa industry. This includes programmes to support farmers, tackling child labour through our Responsible Sourcing Policy, using our new People and Nature Policy to strengthen our requirements from suppliers, and partnering with other companies through the Cocoa & Forests Initiative, World Cocoa Foundation and International Cocoa Initiative."
Starbucks did not respond to a Forbes.com request for comment on why the corporation did not participate in the survey.
The five NGOs who compiled the award noted that the four companies which scored highest are relatively small and not universally available. These were the aforementioned Alter Eco and Tony's Chocolonely; Chocolats Halba/Sunray, from Switzerland; and J.H. Whittaker & Sons, from New Zealand. Not one of the four scored a green egg on all six metrics, but all had adopted industry-leading policies in most areas.
Most of the firms surveyed had improved their transparency and traceability policies in the last year, according to Charlotte Tate, labor campaigns director at U.S. sustainability NGO Green America. "In order to address all other issues in the scorecard, companies must first know where the cocoa is coming from," Tate said. "Without that information, there is little hope of ending child labor, farmer poverty, or deforestation. Companies must have fully traceable supply chains, paired with transparent reporting."
Chocolate Beyond Easter
High-scoring firms were ramping up engagement in agroforestry, a more sustainable method of farming cocoa which conserves wildlife and biodiversity and also captures more carbon. But most others were still lagging behind on the practice, according to Samuel Mawutor, senior advisor at Mighty Earth, another of the NGOs: "The scorecard shows that the pace for adopting agroforestry and more climate friendly farming practices is much slower than required," Mawutor said. "Companies need to transition from tree seedling distribution and invest many more resources into growing and nurturing planted trees on cocoa farms and tree tenure security to ensure the uptake of agroforestry at scale across west Africa."
The largest firms surveyed occupied the middle of the scoreboard. Mars, which controls 14.4% of the global chocolate market, along with giant competitors Mondelez (which owns Cadbury) and Nestlé were rated as "starting to implement good policies overall," though Mondelez and Nestlé fell behind on agroforestry.
"With this scorecard, consumers in the U.S., Europe, Australia, New Zealand, Japan, and beyond can buy Easter chocolates from the heart," commented National Wildlife Federation senior advisor Etelle Higonnet. "Consumers can now buy chocolate with their eyes wide open and use their purchasing power to push laggards like Storck and reward industry leaders Alter Eco, Tony's Chocolonely, and Whittaker's."
Of course, while not everyone celebrates Easter, chocolate can be enjoyed year-round by anyone. So while these latest findings won't cut any of the calories from your favourite bar of the dark stuff, they might be able to remove some of the guilt.
This article was originally published by David Vetter, forbes.com