All those hours spent prepping and cooking in the kitchen in the days leading up to Thanksgiving yield a mouthwatering holiday feast of roast turkey with stuffing, mountains of mashed potatoes, cranberry sauce, and pumpkin pie. But the last thing you want weighing on your mind after you sit down to eat Thanksgiving dinner are the dirty dishes and messy kitchen.
That's why it's important to have a game plan in action for the dreaded Thanksgiving cleanup.
"Having a plan means people minimize the messes," says Jorge Leiva, owner of Bee Maids in Houston, TX. "Small, simple cleaning steps taken during the gathering means cleanup will be less stressful."
Our experts outlined some actionable steps you can take to put the kitchen and house back in order in record time.
Plan a potluck
We all know the (largely mythical) story of the first Thanksgiving between the Pilgrims and the Native Americans, who each brought various food items to their bountiful dinner together.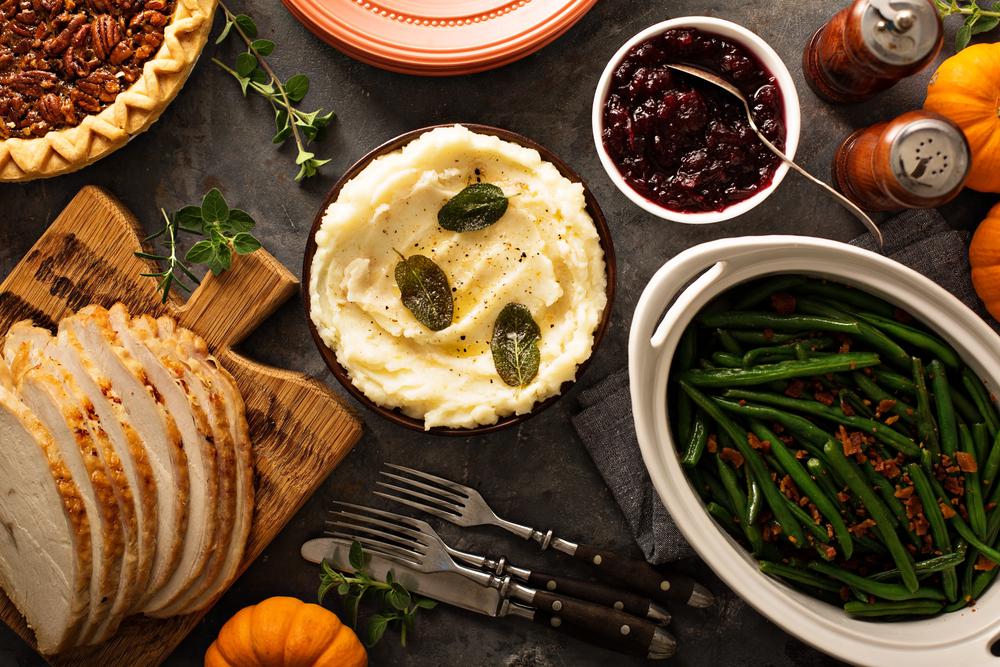 Stick to tradition and have guests each bring a food or dessert item to be shared with everyone. This joint effort will reduce the number of items you have to cook, and thereby reduce the number of pots and pans you need to clean.
Start a soaking station
As soon as you transfer food to platters, soak those pots and pans in your sink or in a plastic tub. Fill your soaking station with warm water, dish soap, and a few tablespoons of vinegar to soften any caked-on food or char.
After the meal, extra-stubborn items, like the pans used to roast vegetables or wine glasses stained with lipstick, can be soaked overnight in vinegar and hot water.
Use reusable or recyclable items
One of our favorite festive eco-friendly tricks is to use edible items like a bread bowl or acorn squash to serve Thanksgiving dishes. It looks great on the table, and when the meal is over, you can toss it in the trash or compost it!
Not up for pulling out the good silver flatware this year? No worries!
"There is no shame in using recyclable items such as paper plates, cups, and napkins," says Chelsie Runnings, a Realtor® with Better Homes and Gardens Wine Country Group in Sonoma, CA.
To cut down on handwashing and save space in the dishwasher, use wine charms to help the adults identify their glass. This will alleviate the need for them to grab a new one from the cabinet.
As for the kiddos, serve their drinks in paper cups, so they can write their name on them and reuse them.
"Kids are more prone to not keep reusing their cups, so a little bit of guidance is advised," says Leiva.
Use cookware that goes from oven to table to freezer
Choose baking dishes that do triple duty as serving dishes and storage containers.
By all means, use that priceless platter that belonged to your grandmother, but add some sensible serving dishes to the mix, too.
"Practicality is key here," says Leiva.
Runnings says to use silicone bakeware, which has the added bonus of being nonstick and easy to clean.
Also, cut down on the number of tools you use when cooking.
"Try to minimize the number of pots, pans, and measuring cups you use when cooking," says Runnings. "You can reuse the same bowl for preparing different foods" rather than dirtying one for each operation.
Prep your trash cans
It's after the meal when the real chaos can happen. Get super organized, and label trash receptacles with sticky notes or masking tape so guests know which one is for trash and which is for recycling. Then, have trash cans readily available, so guests can clean up after themselves.
Runnings says it's a good idea to layer your garbage cans with additional trashbags. Once a bag is full, take it out, and you'll have another bag in the can that's ready to use.
"Clean as you go," says Leiva. "You will be relieved if you keep washing and cleaning small bundles throughout the day."
This story originally published by Ana Durrani, realtor.com