Just two words: edible plastics.
When the whiskey company Glenlivet announced its now infamous edible whiskey capsules, swiftly dubbed "Whiskey Tide Pods," it was mercilessly mocked on late-night talk shows and Twitter. Not all of the ridicule was deserved.
While we don't need a new way to more directly inject alcohol into our bloodstream, nor do we need any more confusion about the edibility of Tide Pods, we do desperately need many solutions to our mounting, persistent plastic waste crisis. Wrapped in biodegradable shells using seaweed-based casing, the science behind Glenlivet's edible plastic could be part of the solution.
Ninety-one percent of plastic globally is not recycled and around 60 percent of all the plastic we've produced since the start of its mass production in the 1950s remains somewhere on our planet today. Much of the problem is due to single-use plastics, such as food packaging and cutlery. The Ocean Conservancy, an environmental advocacy group, ranks plastic cutlery on its "most deadly" list for marine animals when mistaken for food. Around the world, a million plastic bottles are purchased every minute, according to the Guardian (most of which go unrecycled).
The plastic waste crisis touches everyone; we all live on the same plastic waste-infested planet. From spewing vast amounts of carbon emissions during its creation, to clogging waterways, to killing marine life, to jamming landfills (where some plastics leach chemicals over time), the mass production and improper disposal of plastic products hurts our natural environment.
"Movements are going on worldwide that push the industry towards more sustainable plastics," Alex Sundbäck, a co-founder of Potato Plastic, a Swedish project developing potato-based utensils, said. While single-use plastics still dominate, the movement that Sundbäck references could steadily grow if new technologies find practical usage — and people are willing to possibly pay higher prices.
Sundbäck's potato-oriented project is just one of numerous new developments within the edible plastics space, many of which have inventive origin stories. Potato Plastic, for instance, began as a thesis project for Sundbäck's fellow co-founder, Pontus Törnqvist, who discovered, upon spilling starch and water on his kitchen table, that the fluid dried into a plastic-like film. He describes this as the "lucky mistake" that led to Potato Plastic's eventual development.
Like other edible plastic inventions, including seaweed-based Algotek and Notpla, Potato Plastic functions like single-use plastic, minus all the bad stuff. Notpla, the company behind the "Ooho" technology that made Whiskey Tide Pods possible, also uses its technology to replace plastic bottles at marathons and sporting events, and has introduced compostable condiment sachets, available on the Just Eat food delivery service. These variations on edible plastic decompose quickly, rather than producing waste that could exist for hundreds of years; they won't linger in landfills or the oceans for thousands of years; they won't be burned or sent to a developing nation.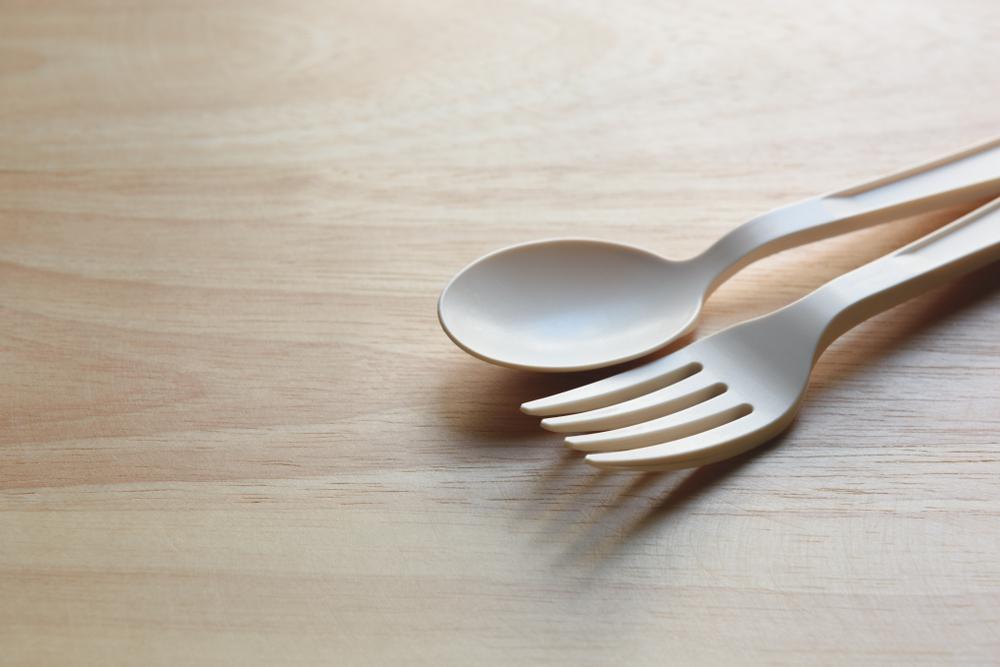 But the ability for human (and, in some cases, wild animals) to eat this new packaging sometimes comes at a price: taste. Many edible plastics are billed as "tasteless," which doesn't mean that all of them are. Users of early models of edible spoons sometimes reported a strange taste.
Some edible plastics companies have countered this by intentionally flavoring their products, like Loliware's flavored cocktail cups, made from a seaweed base.
"We've designed it to be something that would taste good and that you would want to eat."
"It's really meant to be eaten, and we've designed it to be something that would taste good and that you would want to eat," Leigh Ann Tucker, a Loliware co-founder, said to Fast Company.
Similarly, Potato Plastic has tentative plans to create flavors that match the food you're eating, like strawberry or chocolate for dessert forks.
Since many edible plastics products are also compostable or biodegradable, consuming them is not necessarily a prerequisite for eliminating plastic waste. Still, edible plastics may cost more than traditional plastic, which is known for being cheap to make (as long as oil prices don't rise). It's so cheap, making new plastic costs less than recycling it. Either developers of alternatives will have to figure out how to bring costs down, the cost of plastic would need to go up, or consumers will have to be willing to spend more for an environmentally-friendly choice.
Jorge Reynoso, the CEO of E6PR, a company that makes biodegradable six-pack rings safe for marine life consumption (the rings are not meant for humans to eat), is optimistic.
"The world is ready for solutions like this," Reynoso said. "The consumer is ready for the change. You don't need a six-pack [ring] to last for 400 years."
E6PR, which began by partnering with a Florida microbrewery, has expanded its reach thanks to demand from beverage companies, according to Reynoso. Since first working with SaltWater Brewery in 2016,E6PR has partnered with 50 other beverage distributors. But to successfully expand inventions like this even further will take a concerted effort, as Reynoso learned firsthand.
E6PR built partnerships naturally and gradually, making sure that beverage companies who used its technology for their products were doing so for reasons that aligned with E6PR's environmental mission. By moving carefully, Reynoso said it often feels as if E6PR's products are selling themselves. "It's a global demand," Reynoso said of E6PR's offerings. "Once we got started, the demand was coming from all over the place."
Could consumer demand eventually normalize something as seemingly outlandish as a Whiskey Tide Pod, or a fork that you eat after using, or in E6PR's case, a biodegradable six-pack ring that won't harm sea creatures like plastic does? While it remains unseen on a larger scale, people are taking the first steps. And doing so, if you ask Reynoso, is necessary.
"We're talking about the future of the entire planet here," Reynoso said.
This story originally published on mashable.com.