Retail businesses have been going through a patchy phase for the past couple of years. In fact, hundreds and thousands have even shut their shops due to weak sales and economic distress in the market. But all is not lost, yet. There are many who are sustaining and even growing themselves in these challenging times using innovative business development models and methods.
Different Ways to Grow Your Retail Business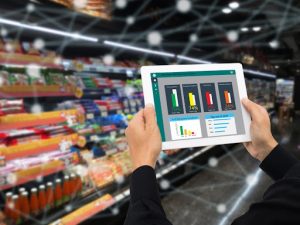 There are many ways retailers can continue to grow their business despite the challenges. 
Sell on New Channels:

Retailers can setup new channels to increase their sales.

Expand Your Product Line:

When you have a retail store selling offline products, you can add more products to your inventory encouraging more people to buy from you.

Partner with Businesses:

You can indulge in strategic partnerships with several other businesses to get more exposure to your business.

Invest in Modern Marketing Methods:

There are many new marketing methodologies and sales that you can try to take your business to the next level. You just need to learn about them.

Go Online:

Going online is another option that you can adopt. Many businesses have created their own websites lately and are expanding really well. 
In the following blog post, we are going to discuss how more retailers are establishing their online presence using various methods and in particular leveraging
local courier services for their delivery
needs. But first…
The Growth of Retailers Going Online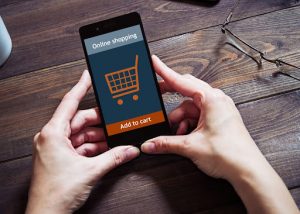 In the last 10 years between 2010-2020, US e-commerce penetration in the total retail sales has been steadily increasing. Particularly in the past 2 years, thousands of small and medium-scale retail businesses have gone online. Few did it because they wanted an online presence, others did out of compulsion due to lackluster sales caused by Covid-19 restrictions. But regardless of why these regular brick and mortar stores are choosing to get on the web, there is no denying that the trend will continue.
To give a perspective on the growth, according to a recent report, US eCommerce has grown 44.0% in 2020, and will generate $337 billion in sales. What's more, the report states that it is projected to contribute 4.4% of US GDP by 2025. This increase in online business has given rise to a wide variety of services that focus on helping local businesses get online and thus boost their revenues.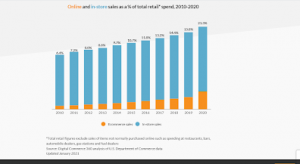 Challenges of Retailers Going Online
That being said, many small-scale businesses aren't aware of the opportunities that e-commerce has to offer. They focus more on physical presence and not so much on online activities. And that's a big missed opportunity for them. On the other hand, businesses that want to go online are facing many challenges. Some of the challenges of going on the web are: 
Create a good eCommerce website:

Creating a good eCommerce website could be an expensive and technically daunting affair. If a business isn't that big yet or has a limited budget then it is very difficult for it to have a robust website that can generate sales.

Managing home deliveries:

All these offline stores are generally used to customers walking-in in and buying directly from them. For them to create a delivery team and manage the logistics is another key challenge. In fact, being able to deliver products from your store to a buyer's home requires a different level of expertise.

Managing shipping fees:

Another big challenge is being able to afford the delivery charges when a customer buys a product. These retailers have two options – either pay it from their pocket or charge the customer. The latter will again increase the final amount to be paid by the customer, and that affects their sales.

Inefficient customer support:

Many local retailers lack the manpower required to provide high-quality customer service to online customers. No wonder the buyers of such stores usually complain about not getting answers for their queries quickly in case something goes wrong with products.
How Do You Solve These Challenges?
Well, there are different ways to solve each of the above problems. However, when it comes to delivering the products to the buyers, it's simple. Tie up with a
pickup and delivery company
with the expertise, technology, and knowledge in logistics. For example, if you are a retailer looking for a service to ship products at your customers' doorstep, you can partner up with Haultail®. With our
same-day pickup and delivery app
, we can do it effortlessly.
But how do you choose a good on-demand pickup and delivery service?
Here are some tips to help you pick the best one for your online business:
Track records of service providers:

Before contacting any courier company, ask around about their track record and reputation. Also, look into reviews on different websites from customers who have hired them in the past.

Choose an expert:

When it comes to shipping, you need an expert. Don't settle for anything less. Ask the service provider about their past and experience in shipping products to the buyers' homes. If they are not experienced enough, you might as well avoid them and hire someone else.

Compare prices:

The last thing you want is to pay a lot of money for something that can be done a lot cheaper. Compare the prices from different shipping companies and then choose what you think is right for you.

Make sure they are always available:

A good parcel delivery firm should be able to provide services always. And, choose a company that offers round-the-clock support.
How Haultail® Same Day Pickup and Delivery App Fits the Bill?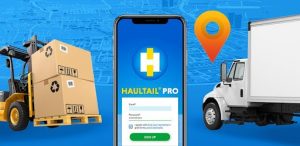 Haultail® same-day pickup and last mile delivery app is the perfect delivery partner for local businesses. Here are a few reasons why we are the best last-mile logistics for you:
We are experts in our job:

when it comes to logistics and shipping, no one knows better than us. We have been making local deliveries for many years now and understand the ins and outs of doing it right. With years of experience, we know how to ship a product to any location in the world.

Our mobile app is easy to use:

Unlike other mobile apps, the Haultail® Pro app is simple, easy to navigate, and straightforward. With just a few taps, you can book an

on-demand last-mile delivery job

.

We are friendly:

One of the best things about Haultail® is that our team members are friendly and personal in their approach. They understand what you want to offer to customers, and are always ready to help you with empathy, care, and friendliness.

Affordable prices:

Ideally, unlike other companies that charge you heavily for each

pickup and drop

, we offer affordable prices. This way, your budget is not stretched beyond limits. If you are a retailer and long-term delivery services looking for long-distance shipments, however, you can check out the Haultail® Pro app.
What is Haultail Pro?
Haultail Pro is a B2B mobile app dedicated to helping businesses have multi-inline deliveries, larger-sized vehicles, and/or long-distance deliveries to obtain "Last Mile" services at a reasonable cost for their customers. 
You would not regret using our low-cost same-day pickup and delivery app.