DCist is providing special coverage to climate issues this week as part of Covering Climate Now, a global collaboration of 250 news outlets designed to strengthen coverage of the climate story. Many of these stories originated as questions from our readers.
Eighteen months after the rechargeable, dockless scooters began popping up in the city, they've evolved from an oddity to a ubiquitous presence on streets and sidewalks. The District Department of Transportation says seven firms (two others have conditional approval) are operating 4,635 total scooters here.
While D.C.'s drivers and pedestrians have complained of obstructed sidewalks and restricted accessibility for the visually or physically impaired, not to mention rider injuries and one fatality last year, scooter companies and transportation advocates say they're getting more cars off the road—and are starting to amass some data and research to support that narrative.
A city-issued 2018 survey in Portland, Oregon, found one in three residents said they'd have driven themselves or taken a ride-hailing service during their last trip if not for the e-scooter they hopped on; the rate was higher among tourists and visitors at 48 percent. The same was true for 50 percent of e-scooter and rentable bike riders in a survey this past winter by the City of Santa Monica. And a study, partially funded by Bird, by two professors from DePaul University's Chaddick Institute for Metropolitan Development, determined they offer a "preferable alternative" to privately owned autos for trips between half a mile and two miles.
The District Department of Energy and Environment declined to comment on e-scooters and carbon emissions, deferring to the District Department of Transportation. DDOT did not respond to multiple requests for comment.
Companies have touted their disruptive technology's green benefits on apps and in marketing materials. Bird notes in a recent PR email that "research shows 30-50 percent of scooter trips would have otherwise been made by car." Lime says every mile traveled on one of its scooters mitigates 350 grams in carbon emissions.
But a first-of-its-kind study published last month in the peer-reviewed journal Environmental Research Letters casts doubt on that angle by attempting to account for all of the emissions produced in an e-scooter's life cycle.
Calculating carbon output from a single e-scooter in Raleigh—from making its parts to shipping it from overseas to rounding it up and recharging it—North Carolina State University researchers concluded the vehicles produce more emissions per mile traveled than a bus with high ridership, electric mopeds, conventional and e-bicycles and, unsurprisingly, walking. They did find the devices have a smaller carbon footprint than cars.
Production was to blame for half of one e-scooter's emissions, while 43 percent was tied to the charging and redistribution process, which often involves freelance chargers driving around in cars.
Researchers also surveyed 61 Raleigh riders and gathered that, had no e-scooters been available at the time of their last trip, 49 percent would have used a bicycle or walked and 11 percent would have ridden the bus, all greener options, they found. Thirty-four percent said they would have the less eco-friendly option of a personal automobile or rideshare.
The authors recommended, among other proposals, that companies aiming to cut emissions build longer-lasting scooters and streamline the whole scheme of charging, by incentivizing contractors to use more vehicles with better gas mileage or letting them "claim" e-scooters ahead of time to keep multiple people from driving to the same spot.
That part of the study bears out the experience of Alexis Fearing. Hoping to bring in some extra cash, she gave charging e-scooters a shot in in May 2018. Several nights a week, Fearing would grab five or six Birds and squeeze them into her Honda Accord, then drop them off around 6 a.m. the next morning.
She called it quits by August, finding the extra $25 to $50 she made daily wasn't worth the money she spent on fuel, not to mention the wear and tear inside her car.
"It was not all that super-lucrative. It started getting more competitive," she says, noting that competing freelance chargers were beating her to her targeted two-wheelers. "I was using up gas, driving to the scooters, and people were already there."
Outlets quickly picked up on the most damning part of the study's conclusion—that e-scooters "do not necessarily reduce environmental impacts from the transportation system." The MIT Technology Review summed it up as, "Sorry, scooters aren't so climate-friendly after all."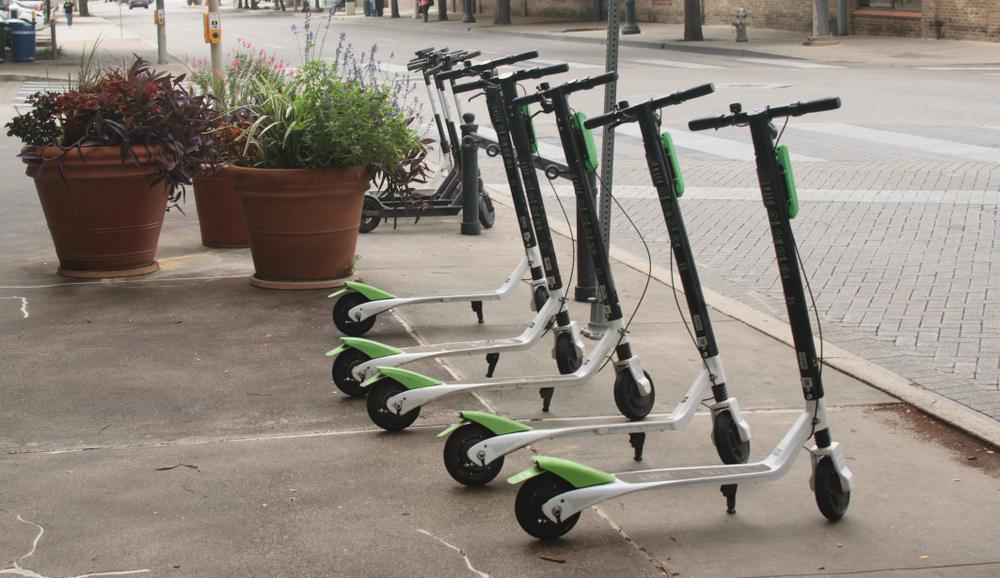 Companies have some gripes about how the study was conducted, saying it made incorrect assumptions about their business models and didn't account for steps they've already taken to cut emissions in the less-than-two years that e-scooters have been around.
Melinda Hanson, Bird's head of sustainability and environmental impact, said in a statement that "assumptions used in the North Carolina study are not reflective of Bird's operations." Case in point, she said, Bird's scooters are custom-produced, unlike the China-made Xiaomi model researchers used in their calculations. (Bird, Lyft, and Spin, who are licensed in D.C., have reportedly all used Xiaomi scooters at one point; Bird has since moved on to a custom model.)
She added that "the study's comparison cases were also based on assumptions that don't necessarily reflect what we see in cities today," like the fact that buses often aren't 100 percent full.
Lime said in a statement that it "welcomes research into the environmental benefits of new mobility options," but similarly maintained the findings are "largely based on assumptions and incomplete data that produces high variability in the results."
The statement didn't elaborate, but Lime has already announced it's purchasing renewable energy credits and carbon offsets to account for electricity used in charging its scooters (as has Bird), and has also already adopted one of researchers' suggestions in letting "juicers" reserve scooters for 30-minute windows, keeping contractors from duplicating efforts to round them up.
But even with these changes, e-scooters largely rely on people driving cars to charge them. One now-former charger from Northeast D.C., who asked to remain anonymous because of a conflict of interest with his day job in transportation research, said he encountered competitors using rented pickup trucks or vans with far more storage capacity.
Fearing, who tried out the hustle while living in Bloomingdale, said D.C.'s licensed scooter providers could do more to track chargers' emissions, including asking them to record their mileage on the job.
Both ex-chargers also suggested companies try out a different framework entirely, like bringing the new charge to the scooters instead of having people pick up and drop them off daily.
That's just what Bolt, co-founded by Olympian runner Usain Bolt, is doing by offering swappable, rechargeable batteries in its recently debuted devices. A spokesperson said the firm assigns employees with sprinter-style vans to service the vehicles, rather than allowing chargers to sign up and collect them in their own cars.
Skip, which recently returned from an operating suspension in the District after multiple scooters unexpectedly caught fire, is doing something similar by rolling out a new line of devices with replaceable batteries. In a statement, a Skip spokesperson said that the company testing them out in its only other market, San Francisco, before eventually replacing its existing fleet in D.C. this year.
"Rather than trucks and vans driving about to pick-up and re-deploy, a single electric cargo bike can make the rounds to replace batteries with a full (and significantly longer) charge," Skip CEO and founder Sanjay Dastoor said in a statement.
And Spin, a Ford-owned company that arrived last fall, is piloting solar-powered docking stations in D.C., in part to eliminate the need for freelancers to come pick them up and charge them overnight. The firm partnered with startup Swiftmile to install 40 total docking stations in busy areas in the District, Alexandria, and Arlington. The idea banks on users taking it upon themselves to dock their scooters to recharge after use, instead of leaving them out on sidewalks.
Lime, for its part, said it's established "a robust repair and reuse program" to make its scooters longer-lasting, and is "making rapid advances in both technology and operations."
Hanson, Bird's head of sustainability, said the firm is "committed to making Bird a net-zero carbon emission service," including with those aforementioned renewable energy credits. The company is also exploring other ways to cut emissions and hopes to be able to track its entire carbon footprint, she said.
Only two years have passed since the first e-scooters were dropped off on Santa Monica streets, and even less since they arrived in D.C.
"It's moving so fast that I don't think anyone has the right answers," says Sebastian Castellanos, research lead for the World Resources Institute's transportation technology-focused New Urban Mobility alliance.
But he points out to the positive finding that was overlooked in numerous reports on that recent life-cycle study—"Even if scooters have a shorter life span," says Castellanos, "it's still much better" than cars.
This story has been updated to reflect that Bolt assigns full-time employees, not contractors, to service its scooters.
Original story from dcist