IN THE weeks leading up to the Christmas season, people all over the world begin to stock-pile gifts, decorations, wrapping paper and more.
Christmas is a time for celebration, love and fun with family and friends, as well as an excuse to drink a glass of bubbly first thing in the morning.
But is there a way to make the season of indulgence more environmentally friendly?
As climate risks surge and various activist movements take place worldwide, many people have become increasingly aware of the threats posed and are keen to make changes.
Here are a few ideas to help make Christmas a bit greener.
1. Wrapping Paper Alternatives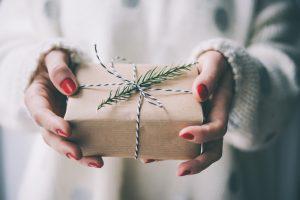 Everyone loves seeing their presents adorned with cute wrapping paper, but most paper bought is filled with non-paper components and dyes which makes it impossible to recycle.
There are plenty of different wrapping options for our presents that won't impact the environment as much.
These include: newspapers, sheet music, old wallpaper, maps, tea towels/cloths (which doubles up as a practical second present) and brown wrapping paper.
Re-using gift bags and boxes from previous years/saving those from the current year is also a good way to reduce waste and re-use packaging.
2. Plastic Tree versus Real Tree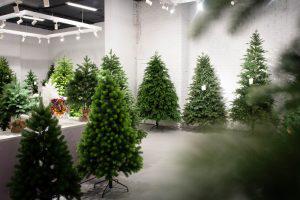 Although plastic trees can be re-used for many years after purchase, they are arguably not ideal for the environment.
The majority of plastic trees are made from PVC, a plastic which is extremely difficult or impossible to recycle.
Other aspects of artificial trees such as production and transportation impact the environment due to the large carbon footprint created.
It has been recommended by Friends of the Earth to look for a real tree that is locally grown, or grown somewhere in the U.K to reduce transportation emissions.
Cutting your own tree, buying pot-grown trees or renting a tree are also great alternatives.
3. Plastic Free Presents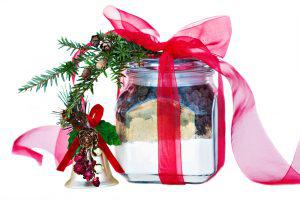 Many gifts we buy and receive are packaged in plastic, and only 45 per cent of plastic is recovered and recycled.
In order to prevent more plastic remaining in the environment for hundreds of years, here are a few plastic-free gift options:
The vegetarian, vegan and cruelty-free cosmetic phenomenon Lush have a packaging free initiative. If customers bring back five pots for reuse, they get a fresh face mask for free.
Glass jar gift. This can be a versatile present, as it could be filled with a variety of things, such as hot chocolate mixture or even just some chocolates or sweets. The glass jar can then be reused in the future.
The Plastic Free Shop is an online store that specialises in plastic free gifts and home essentials. Whether that be kitchen and homeware items, books or stationary, this company has plenty of gifts that don't involve the use of plastic.
4. Loose Vegetables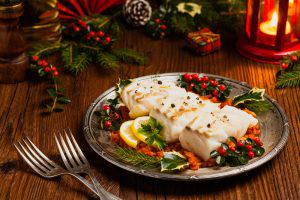 It's not just our presents that come wrapped in plastic packaging.
Many of our vegetables for our Christmas dinner are packaged in plastic.
Although the plastic is sometimes needed to keep the vegetables fresh and hygienic, buying vegetables loose a few days before Christmas ensures that they stay fresh and reduces plastic waste.
5. Car Share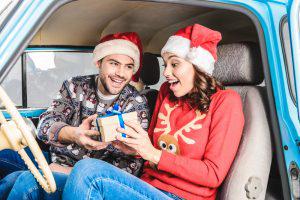 Sharing transport with family and friends is a good environmentally friendly way to travel to other people's houses.
It saves fuel and provides a good opportunity to do some Christmas Carpool Karaoke.
6. E-Cards
Although Christmas cards are great to receive, the waste produced by them during the festive season is gigantic. 300,000 tonnes of card packaging is said to be used during the festive season.
This amount is enough to cover London's Big Ben almost 260,000 times.
Sending e-cards reduces waste and enables the card to be saved without taking up any space.
However, physical Christmas cards can be reused for the following year.
You can use the front of the cards as labels for next years presents to save money and waste.
7. Re-gifting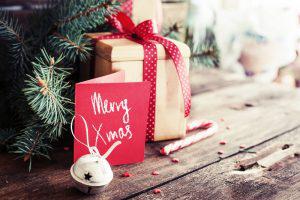 It's not unusual to receive a gift that you don't particularly like, but don't want to go to waste.
Re-gifting enables you to save money and send the present to as good home, providing you don't send it to the household you originally received it from.
8. Food Waste
Rather than binning what's leftover from Christmas dinner, you can transform the leftovers into various meals.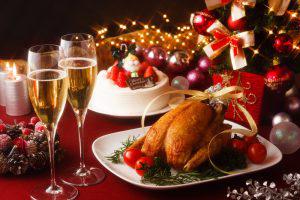 Using leftovers saves money while reducing waste, allowing you to enjoy the taste of Christmas for a while longer.
For ideas on creating Christmas leftover meals, visit BBC Good Food.
Alternatively you could donate the food to a food bank, give it to a neighbour or someone you know, or compost any waste.
9. Christmas Lights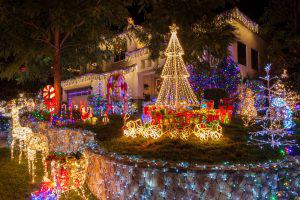 Illumination spectacles are a huge part of the festive season, removing them would be like saying mince pies are banned.
But we can make them more energy efficient.
Using LED Christmas lights can reduce Christmas energy consumption as they use 80-90 per cent less energy than traditional incandescent lights.
Another way to save energy is to put your Christmas tree lights on a timer to ensure the lights can be enjoyed without wasting electricity.
An option for outdoor use is lasers.
They are easy to install and only use approximately 0.005 watts per hour.
Lasers combined with outdoor LED lights are the perfect combination for a neighbourhood spectacle whilst keeping energy consumption to a minimum.
10. Reusable Shopping Bags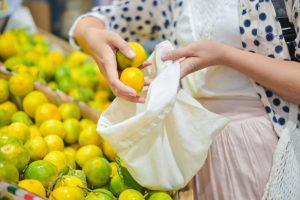 Take reusable shopping bags when you go Christmas shopping.
This saves you 5p and reduces plastic waste whilst enabling you to show off a bag of your choice.
If you have a pile of plastic bags at home, you could also reuse these for Christmas shopping to get further use out of them.
Reusable bags are also a good Christmas present for people of all ages.
This article was originally published on bournemouthecho.com