Learn more about why

same-day delivery

services are here to stay.
Whether it's to receive an online purchase, or picking up your dry cleaning on the way home from work,
same-day delivery
is a very sought-after service. It provides consumers with greater convenience while offering business owners a chance to keep customers happy and spend more money on their products.
The following are 11 statistics that show the importance of same-day logistics:
Nearly 40% of very small businesses with revenues under $100,000 offer same-day delivery options for their customers while 25% of all firms provide such services despite being unattainable only two decades ago.
2. eCommerce sales account for nearly 15% of total spending on retail goods in 2020
According to a report, 14.2% of total spending on retail goods is done online in 2020 while the figure is expected to increase in the coming years with more than 30% of shoppers preferring ordering products over the internet for convenience and ease. And, these shoppers expect the products to be shipped to their doorstep.
3.  Global e-commerce sales were $4.28 trillion marks in 2020
Total e-commerce sales were around $4.3 trillion in 2020 with shoppers spending more online than offline. It also said that the growing popularity of same-day delivery services is one of the main reasons for such figures.
4. U.S. eCommerce sales stood at over $750 billion
China accounted for the highest share of global e-commerce sales with 51%.  In 2020 alone, American shoppers spent at least $759 billion on online purchases.
5. Same day delivery accounts for close to 10% of all online shopping
Recent research showed that 9% of online shoppers actually made a purchase because of the same-day shipping option while 67% of them took advantage of such services at least once in the last year.  In addition, 66% of consumers are willing to pay more for getting products
delivered on the same day
.
6.  Over 80% of smartphone users prefer purchasing items online
Nearly 85% of people surveyed preferred using their smartphones over desktop computers when it came to purchasing products and services online. The report also said that more than 90% of people were likely to click on retail ads they saw on their smartphones compared to only 55% for desktop computers.
7.  60% of consumers prefer spending money on online shopping
According to a report by Statista, Millennials spent more money than any other generation on online purchases with an annual average of $2,700 while Baby Boomers came in second with an annual average of $1,400.  In addition, more than 50% of people surveyed preferred spending money on such online sites instead of in-store shopping.
8. More than 50% of Americans download smartphone apps to receive notifications about deals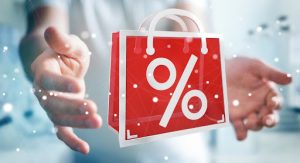 More than 68% of smartphone users downloaded shopping applications on their devices while 50% of them signed up for notifications about special deals and promotions from their favorite brands. This directly means that customers choose to be aware of online sales so that they can shop from online platforms.
9.  35% of mobile shoppers are likely to purchase the same product from different retailers due to a delay in shipping
More than 71% of shoppers preferred using search engines like Google over apps to find product information while 35% of them were likely to buy the same items from different retailers due to a delay in shipping.  In addition, 42% of them said that they would purchase again from these sites if they receive same-day delivery service.
10. Consumers say online stores meet their expectations when it comes to

delivery

almost 50% of the time (45%).
Most consumers feel that online stores meet their expectations when it comes to delivery almost 50% of the time (45%). And, more and more shoppers are becoming increasingly impatient when it comes to delivery.
11. Majority of the retailers to meet the demand of
same-day delivery
Although the demand for
same-day pickup and delivery
has increased significantly over the past several years, the majority of retailers are unable to keep up with it. Just over 50% suggested that they offer the service.
You see, there are various reasons why same-day delivery is so important for businesses if they want to grow their sales. Here's how a great same day logistics business can help you ramp up your business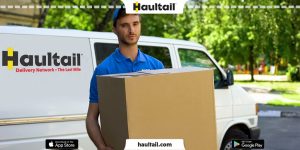 1. An on-demand last-mile delivery service like Haultail® helps you to reach out to customers who would otherwise not have access to your business. With a huge number of consumers preferring to have products shipped at their doorstep, it is only right to provide such an option to them. It will help increase your sales.
2. By using the Haultail® cheap same-day courier app, you get to keep your online platform active with more sales. How? Well, with smartphone users downloading shopping apps to purchase their goods from their homes, it is only right to provide such an option to them. And, when it comes to the shipping, we take care of it.
3. With Haultail® urgent delivery service, you attract new customers while also retaining the old ones. With mobile commerce expected to be worth trillions in the coming years, you need to establish an option for same-day delivery services, otherwise, it is likely that some of them will choose to go shopping from your competition.
4. You can enhance your customer service with affordable same-day pickup and delivery apps like Haultail®. Providing an instant delivery service means that your clients will be pleased with the fact that they can get their purchases as soon as possible and start using it right away.
5. A great low-cost on-demand last-mile delivery business allows you to keep your clients coming back for more of your products or services without having to invest in something like the UPS shipping calculator.  Since same-day delivery is instant, you can be sure that the clients would want to purchase more and more from you.
6. Use Haultail® to widen your scope of markets by broadening the areas where people buy from you. A lot of businesses tend to have a huge impact on their local communities and if they want to grow even more, then they will have to reach out further.
7. You can use the Haultail® same-day pickup and delivery app to send and receive high-value packages without having to spend too much on logistics or giving away a lot of discounts as well.
Download our Haultail® app today and get the perfect same-day delivery service experience.