Demo Bags® 42 Gallon contractor trash bags are among the best bags in the industry. They are strong, durable, reliable, and above all, affordable. In fact, you get a box of woven contractor bags at a really inexpensive price.
However, let us learn how to use them:
How to Use Contractor Bags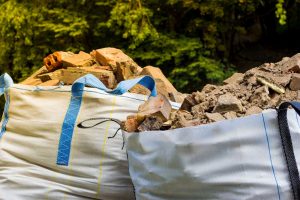 Contractor trash bags are essential for any type of junk removal or hauling work. They are used for storing, sorting, and transporting items.
An old-fashioned method of junk hauling is the use of such bags to store items in your truck or car while you drive around town picking up unwanted things from homes and businesses. They are like trash cans on wheels that can be loaded with as little as a few pounds worth of trash or up to a full cubic yard of junk.
Tip: Contractor trash bags are often used as garbage bins on wheels during parties, events and festivals.
Contractor trash bags are used for the following:
They are used for storing items in a garage, basement, or attic.

Tip: Contractors often place a sticker on the outside of each bag to identify what is inside and where it came from. That way, it can be reused instead of being recycled as trash or

dumped in landfill sites

when full.

They are used to store items prior to staging an estate sale (or another type of event).

They are used for

dumping wooden trash

.

Contractors often use them as containers for moving large and valuable objects such as marble statues, paintings, or mirrors. They can also be used for carrying drywall or other building materials, as well.

These bags are designed to be durable and flexible so that they can withstand heavy weights and rough treatment without ripping. They come in various sizes and are made up of different types of material.

Contractor trash bags

are not just for professionals; anyone interested in getting organized should consider purchasing one.
Why Do Contractors Love the Demo Bags®?

There are various reasons why Demo Bags® prefer to use them over other bags in the industry. Some of those reasons are: 
Strength:

Demo Bags Bags® are the strongest bags in the industry. They are measured at 6-7 mil thickness.

Recyclable:

Not only are these

bags strong

but are also eco-friendly. They are made up of 100% recycled plastic bottles.

Created with Years of Research:

These bags are created with polypropylene fiber after several years of scientific research and testing.
If you are searching for a reliable bag to remove your scrap, haul junk debris, then look no further. Demo Bags® 42 Gallon Contractor Trash Bags far exceeds the customer expectations in almost every criteria. Get Your Hands on Demo Bags® today!