Waste management at your home is extremely important because it consumes your time, money and affects the environment if not done appropriately. Before getting rid of your scrap, you need to ensure that you do not waste resources. However, once something is dumped, it must either be recycled or disposed of at relevant locations.
How to Do Waste Management?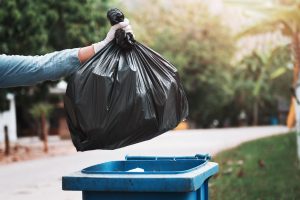 Here is a step by step guide to scrapping management that you can follow:
Firstly, always separate waste into two categories – recyclable and non-recyclable.
Recyclable unwanted items can be separated further into the paper, household, plastic and electronic waste.
Step 1: Separate Recyclables With the 3-bin Method
The 3-bin method of separating unusable items is compulsory in households because it makes it easy for the authorities to segregate it. When you separate it into three waste bins, it will then be picked up by waste collectors. 
In general, 
Bin 1: waste that goes to landfills; 

Bin 2: recyclable

Bin 3: hazardous
Step 2: Compost Organic Waste
Set up a compost heap with your food scraps or simply dispose of them with bin 1. You can also use bin 2 to dump stuff that is not recyclable but can be reused.
Step 3: Dispose of Hazardous Waste Properly
Hazardous items such as chemicals, batteries, and expired medicines need to be discarded carefully because they are harmful to the environment and people around you if you dump them carelessly.
How to Choose a Good Waste Disposal Bag:
As dumpster bags are used to
manage waste
, you need to choose the bag after many considerations. When you use
disposal bags
that are eco-friendly, the junk can be dumped in landfills and later recycled easily.
The following tips will help you choose a good bag to clear your junk:
Choose a bag that is made of a material that will not easily tear because it can leak through the bags that are too thin.

Choose the right size of waste disposable bag

for your waste bin so that waste does not spill out when you lift up the bag to empty it. This is especially important if you have

small waste bins

at home.

Ensure that it is not torn or stained. Otherwise, waste collectors

will not accept them. Also, ensure that it is a close fit so that rubbish does not spill out while carrying it.
Why Select Demo Bags® as Your Dumpster Bags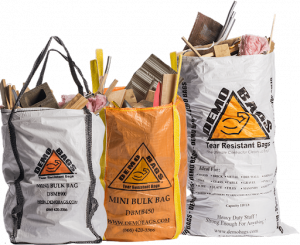 Demo Bags® are the best bags to dump your unwanted items as they are quality dumpster bags with the right size for trash bins effectively. Demo Bags®, woven contractor bags, are also eco-friendly, long-lasting, and can be used several times – thanks to years of research that has gone into manufacturing them.