Having a reliable

furniture removal service

can be really helpful if you want to dump or donate your old furniture items.
Removing your furniture could be a daunting task if you're doing it for the first time. It's heavy, cumbersome, and requires more than one person in most cases. But, the good news is – it does not have to be a complicated process. With Haultail®
furniture removal service
, you could get any type of furniture hauled within your home or even get it junked in a dump yard. 
What is furniture removal?
Furniture removal
refers to the act of shifting furniture from one place to another or even disposing of it. This is generally done by professional furniture removal and hauling experts. Professionals are more required when you need complete disassembling of the furniture before it could be hauled, lifted, and carried away. 
The old furniture is often removed completely before it is sent for junking. It could involve dismantling the furniture and removing all its parts individually. This process helps to maneuver easily around the house and get rid of it.
Haultail® is one of the most professional furniture removal service providers that deals with the logistics involved in hauling and disposing off your old furniture. In fact, we are a full-service junk removal company. We give you options to do all that at a reasonable price and within your stated time frame. We have years of experience in the field and could deliver a top-quality experience in helping you discard your furnishings. Here's a list of furniture that we help you get rid of: 
Couch

Sofa

Chairs

Mattresses 

Tables

Dressers

Bed frames

Cabinets

Dining Tables

Wall Units

Filing cabinets

Beds
Can furniture be recycled?
Old furniture such as wooden chairs, cabinets, etc. can be recycled, provided they are still intact. When it comes to bulky and heavy items, like mattresses and dining tables, the cost of disposing of them is higher as it requires additional effort. Disassembling also allows us to have unwanted furniture items recycled easily.
Haultail® furniture removal service gives you the option to either recycle your undesired furniture or junk them in a junkyard after we remove them from your place. Our experts could let you know which is the best option. Ideally, recycling should be given a preference if it could be recycled. There are many benefits of getting your furniture recycled: 
Recycling reduces the amount of waste material going to landfills and thereby conserving natural resources.

Recycling keeps the waste from filling the ocean and contaminating the water body.

It prevents the release of harmful chemicals into the air.

Helps avoid deforestation.
If you want to get rid of all the pieces of heavy and large furniture in your home, Haultail® is here to help you out by disposing of them at appropriate recycling landfills. And, if you are looking for an
office furniture removal service
, we have the resources and expertise to get your
unwanted office chairs
, desks, and other wooden junk removed from your place. We could haul them away in the required time frame at a reasonable cost.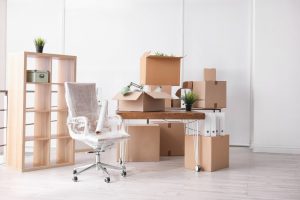 The first tip to do office disposal is to make sure all the office furniture items are disposed of in a systematic manner.

When discarding your furniture, always ensure that all pieces have been moved out of the office rooms and workspaces. This makes for smooth removal.

If you have any large items like cabinets or tables, it is best to remove them first rather than leaving them in place while hauling away smaller items like chairs and desks. This allows that the item could be completely removed or transported rather than having some parts left behind.

You can also sell it directly to your employees; they can buy from you at discount and Haultail® can drop them off at their home.

If you have an item like a broken office chair that is not needed, but could be useful to someone else, it's best to donate that chair instead of disposing of it entirely. 
The Need For Office Furniture Removal
Whether you're moving out or shifting to another location within, an
office furniture removal service
is a must. Furniture that is no longer in use can be really tedious to get rid of, especially when it's heavy and bulky. Hauling them off on your own to a location where they could be recycled or junked is also not an option, since they are too heavy to be lifted by one person. 
Plus, lack of sufficient access space could make it impossible for you to squeeze your pickup truck in and drop them out to the location where they could be recycled or junked. However, with Haultail's furniture removal service at your disposal, you can leave all that to us. 
We will bring the required resources and manpower to ship them off at a time convenient for you. While we work hard to haul away those old pieces of furniture you can focus on tasks that are more important to you.
Now, furniture disposal is costly which means that it's hard for small companies to afford them. At Haultail® we offer discounted rates and special deals to help such small and medium scale companies save on their budget. We do not only focus on furniture disposal but our specialists could also remove all types of small and heavy items including refrigerators and other appliances.
No job is too big or too small for Haultail®'s furniture removal service as we understand that even the tiniest item can be a hassle to deal with during the shifting process.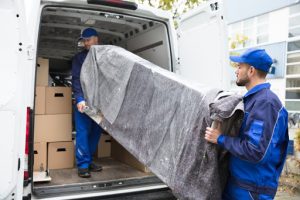 There are many things you need to look out for while choosing a furniture removal company.
The first thing is to look at the company's credibility. If they are known for their

junk removal service

, customer support and you could go ahead with them.

They should possess the right to machinery, tools, or vehicles that they use to get rid of that furniture.

Prices should be affordable. And you should get a free written estimate about the overall

furniture junk removal cost

in advance. And, that there are no hidden charges. However, make sure the price is not a deal-breaker.

Great service will have a great reputation. Choosing a company with good ratings and reviews is therefore important. If you find negative reviews, then you can always look elsewhere.

Customer service is paramount when it comes to choosing service businesses and

junk removal businesses

are no exception. Before you hire somebody to pick up your furniture, make sure they have your details correct. The representative should be able to pick up the phone at any point in time and ask them follow-up questions about their removal services.

For

waste furniture removal

, you need a professional who can offer a wide variety of solutions when it comes to junk disposal. They should be able to handle even the largest of furniture items.
Haultail® has been offering the
best furniture removal services
in the industry. Our pro drivers are able to carry the heavy lifting and
hauling of all your furniture
without much effort. In order to have the furniture junked, all you need to do is create a job on the Haultail® on-demand pickup and delivery app and we will assign the most suitable driver to meet your requirement.
So, are you up for dumping your old furniture? If yes, then pick your phone, download the Haultail® app from Google Play and App Store. Once a job is created, our drivers will turn up at your office or home in a short span. And, they will take care of the rest. 
Contact Haultail® Now at (800) 615-1150 or even email us at: [email protected] and get the best furniture removal service here!