As a new school year approaches, many north country school districts are struggling to find substitute bus drivers, partly because new state rules make it tougher to pass the required driving test.
Some have also found it difficult to fill full-time bus driver jobs, but school officials who were contacted in St. Lawrence and Jefferson counties said having a list of substitute drivers is a more pressing problem.
At Carthage Central School District, a large banner attached to a school bus in front of the high school on Route 26 reads, "Bus Drivers Needed. We will Train, $20 an hour."
"We're always looking for substitute drivers," said Carthage Superintendent Peter J. Turner. "The big problem is we can't guarantee them a certain number of hours. Most eventually work into a full-time position."
The district has 71 regular drivers who are considered full-time which qualifies them for health insurance, retirement and other benefits. They work about four hours a day transporting students on morning and afternoon bus runs. The district also pays $16.50 an hour to drivers during their training period.
Although all the regular positions are now filled, Mr. Turner said there's only two to four drivers on the substitute list. Substitutes are needed when a regular driver is out sick or extra drivers are needed to take students to sporting events, field trips and other activities.
"We have very few on our substitution list and our transportation supervisor is worried," Mr. Turner said.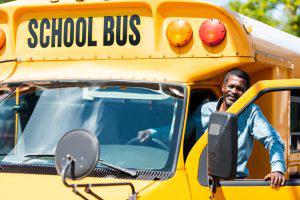 As incentives, he said Carthage is considering offering signing-on bonuses for drivers. Drivers who recruit a new driver could also receive bonuses.
About two years ago, the state Education Department adopted federal rules that require public school bus drivers to have a great deal of mechanical knowledge about the bus.
Potential drivers must pass a pre-test that measures their mechanical knowledge before they can move forward to the actual driving test. Those who are successful obtain a commercial driver's license that allows them to drive public school buses.
"The pre-test is very stringent," said Kevin C. Kingsley, Potsdam Central School's transportation supervisor. "They have to use the correct terminology. You have to show knowledge about the mechanical parts and their functions."
Also, he said it costs $40 to take the test.
"If you're taking it two or three times, that's a lot of money out of your pocket," Mr. Kingsley said.
The New York Association for Pupil Transportation discusses the new testing regulations on a regular basis, he said.
Critics argue that most districts have mechanics on staff who can assist drivers with mechanical problems, arriving on the scene if necessary. They also contend that it's more important to have drivers who interact well with students and keep them safe.
"We don't need the driver to be able to diagnose when something is wrong with the alternator or the fuel pump. We need the bus driver to drive the bus safely," Mr. Turner said.
If Potsdam decides to switch its schedule by having all students arrive and leave at the same time, he said another six to eight more drivers will be needed.
"I think that would be difficult," Mr. Kingsley said.
Mark White, superintendent at Hermon-DeKalb Central School District, said the pre-test is difficult and some drivers become discouraged if they don't pass it.
Bus driving is attractive, he said, to those who want to work part-time and receive health insurance benefits. Some people have other jobs and drive a bus to supplement their incomes, including school custodians and teacher aides. Others are retired commercial truck drivers.
"The biggest perk is insurance," he said. "A family insurance plan is worth about $25,000 a year."
Mr. White obtained his CDL license a few years ago so that he could transport students when needed. His district has two substitute bus drivers and would like to have four.
"I don't think there's a district in the county that's not looking for drivers," Mr. White said.
Although all the regular bus driver jobs at HD are filled, he also wants to have more substitute drivers available. The district pays sub drivers between $15 and $20 an hour.
Original story from nny360