Tips for integrating brick-and-mortar and digital
The start of a new year is time for taking stock and planning for improvement. This is especially relevant for technology in the home furnishings industry since the ever-increasing pace of change makes it challenging to keep current.
Research from the National Retail Federation supports the idea that the most important technology initiatives should be those that make the customers' process of discovering product as seamless, convenient and enjoyable as possible.
"I'd encourage any retailer to carve out the time to audit what they did in 2019 specific to their digital approach and allow that information to inform some of their 2020 action items," said Andy Long, head of sales for Blueport Commerce, a cloud-native omnichannel platform. "Were there any new areas of growth that were a surprise? Did your customers change their shopping behaviors in any notable ways?"
Technology experts agree that the defining theme of 2020 is going to continue to be how to integrate brick-and-mortar and digital shopping to offer a seamless process for consumers.
"Walk through a typical customer journey both in-store and online as well as merging the channels the same way a customer would, and be honest about the gaps in experience," said Caitlin Jascewsky, marketing supervisor for Storis, a retail software solution provider. "These then become your strategic priorities for 2020."
Product discovery
Research from Qubit, a provider of mobile product discovery solutions, shows that 48% of consumers feel the process of product discovery using mobile websites is frustrating. In response, building out rich product context for the customer can help alleviate those frustrations.
In 2020, Jascewsky says, retailers that ease consumer confidence and deliver convenience will win over customers.
The hybrid experience — with the brick-and-mortar store augmenting the digital store and artificial intelligence assistants supplementing sales reps — is now ushering in a new age of commerce.
"Businesses are now available 24-7-365 to offer a tailored service, delivered on-demand," said Etienne Merineau, co-founder of Heyday, an AI-powered customer chat platform for retailers. Merineau believes the future of retail should be frictionless and focused on giving consumers full control of their experience.
"If people no longer come to your store, you have to find a way to bring your store to them," he said. "Connecting online leads to in-store experts is a great way to create the omnichannel experience every consumer loves."
Another way to aid consumers in the discovery process is through creating interesting content with a frequently updated blog, along with compelling social media content. Pinterest, Instagram and other social media platforms are turning furniture into a lifestyle good.
Data from BigCommerce shows that Generation Z spends two to three times more shopping on social channels than the average consumer does and also uses these platforms to find products that resonate with them and give them inspiration.
"These channels are the first contact many make with a furniture brand," said Jeff Hunt, CEO of Snap36, a tech company specializing in high volume 3D product photography. "Retailers can get ahead of the trend by offering in-platform coupons and integrating with a checkout function directly in an app like Instagram Checkout."
Educating consumers
More and more dealers are looking at the website as the place where the consumer's journey is going to begin and using it to take a more active role in influencing a consumer's decision, according to Scott Hill, CEO of Perq, a software solution and marketing company.
Hill suggests that companies use their website as a way to reach out and educate consumers by getting the sales team involved in digital sales and evaluating website leads.
"The automotive industry has been about a decade ahead of the home furnishings industry in doing this, but 2019 was the year the home furnishings industry said there has to be a better way to leverage my website than this shopping cart that rarely gets used," said Hill. "Taking an active approach in how to leverage the website for in-store revenue is a big leap forward vs. passively waiting for the door to swing in-store."
Tech providers agree that it's imperative to provide website visitors with a variety of convenient ways to communicate with appropriate team members using online forms, via email and even text.
"Both manufacturers and retailers need to use these new ways of providing information to their customers," said Ron Gordon, vice president of technology at marking solution MicroD, a web technology provider for the home furnishings industry. "Purchasing online is now an everyday occurrence in most all industry segments, but (it) hasn't made as much progress in the home furnishings industry."
Another challenging aspect is to make sure websites are optimized for mobile. According to Wolfgang Digital, 67% of all retail browsing happens on a mobile device or tablet. Yet, many furniture brands and retailers still consider desktop shopping first when designing web pages.
"Mobile screens have much less real estate, which means brands need to be able to immediately communicate much more information with much less space," said Hunt. "One example is using 360-degree product images so that users can see and inspect every angle of a sofa or a dresser during their first few seconds on a product page rather than taking the time to scroll through a photo reel."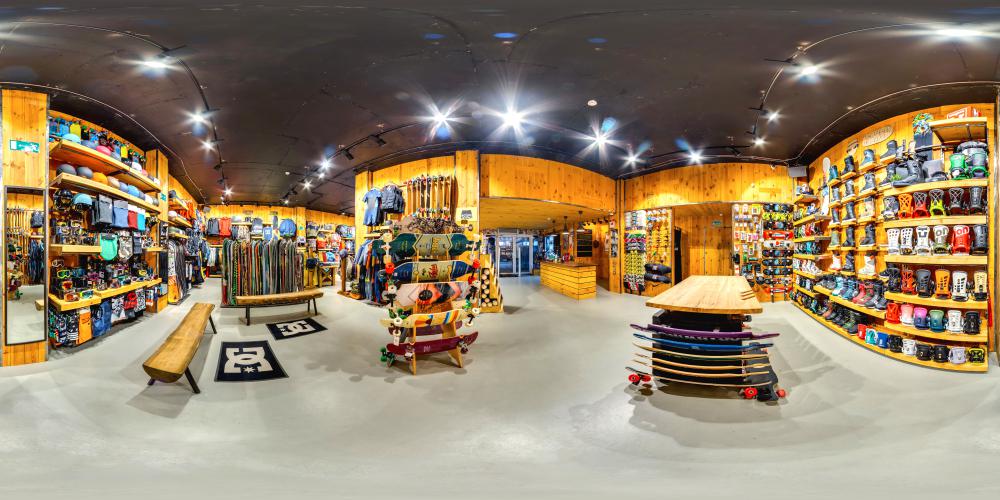 Say it with visuals
Many of those in the tech realm say the home furnishing industry is transitioning from a 2D to a 3D era. Brands need to be investing in improved visualization of their products to remain relevant.
"These digital solutions are not only important for strengthening brand equity in the eyes of consumers, but also to empower the B2B customer with assets and visualization tools to showcase products better online," said Manoj Nigam, MicroD president and CEO. "In 2020, the investment that brands make in visualization of their products will help retailers promote those products better online."
Since 3D assets have not yet been standardized, many companies may be concerned about creating files that will have to be continually updated as technology advances.
"The most important aspect in future-proofing technology investments is to ensure that 3D files can easily be repurposed for new applications and that the content, including images and 3D assets, can be easily distributed across all omnichannel use-cases," said Janus Jagd, CEO of Cylindo, a 3D product visualization platform. "This way you'll avoid a lot of sunk cost while also ensuring speed-to-market for new 3D use cases."
Jagd said he is also seeing the consumer demand for product customization continuing to grow, so many start-up companies that have furniture configurators are coming online to take advantage of this opportunity.
And while the ability to search for items visually is still in its early stages, the technology is progressing. Furniture retailers can prepare by optimizing their sites for visual search now.
"Take photographs of products from as many angles as possible. Visual search algorithms rely on a high volume of photos to work well. If a customer takes a picture of a certain sofa hoping to find it online, but the angle doesn't match up with how it's presented in photos, the results could potentially lead that customer toward a competitor instead," Hunt said.
Ready to purchase
Whether it's selling home furnishings directly to consumers online, through brick-and-mortar stores, online marketplaces or via a B2B channel, retailers must offer an experience that makes it easy for customers to find what they want, when they want it.
"The only way to achieve this modern customer experience is to make sure your data is accurate," said Chris Benner, Oracle NetSuite product manager and master industry principal. "If your foundational data (such as inventory, order, pricing and financials) is stored in disparate systems and is not accurate, your customers will likely end up shopping somewhere else."
Providing updated product data, inventory information, order status and many related functionalities online is not only expected but required to continue growing successfully, according to tech experts, who caution that brands not providing this ease-of-use in working with their retailers electronically will fall behind and be forgotten.
Companies need to carefully evaluate new technologies to determine if they will be able to be integrated with existing systems.
"Everything digital should be trackable, which means it can be measured. Ask what ROI you can expect from it and what sort of business implications or results the new technology will create for you," said Kayla Wallace, vice president of client relationships for FurnitureDealer.Net, a website and omnichannel marketing company.
"Activating a new piece of technology is only the beginning. Integrating it into your business, training your team how to use it and making sure it brings you the results you need is the key to success," she added.
The industry's collective challenge is figuring out which options make sound business sense and provide scalability but ultimately don't break the bank, according to Sam Vlessing, CEO of e-commerce technology company Bear Ogilvy.
"Invest in solutions that allow you automate. And think about cost savings as well as revenue generation, as great technology does both," Vlessing said. "There's no single right answer; a one-size-fits-all approach simply doesn't do the home furnishings industry justice. Keep in mind that it's okay to walk before you run. Small steps are still cool."
It's also a good idea to update in-store technology by adding items such as extended-aisle kiosks, the ability to pull up an online cart to buy in-store, and room planning or visualization systems that let shoppers customize furniture pieces while they are in the store or use AR/VR to see what furniture will look like in their homes.
After the sale
Technology has also added new options for how to deliver these purchases to consumers. In addition to the traditional white-glove delivery and ship-to-home, many retailers are adding 'buy online, pick up in store' and 'buy online, ship to store' options that are becoming increasingly popular.
"At the core of each of these trends is the desire to offer the best customer experience possible," said Oracle's Benner. "Consumers will always need home furnishings companies to decorate and furnish their homes and it's important to have a flexible and agile platform at the foundation that will help drive the experience forward."
This article was originally published by Anne Flynn Wear, furnituretoday.com