Here's How You Can Select a Perfect Woven Contractor Bags!!!
Woven contractor bags have become a vital tool in the junk removal and hauling industry. But choosing a contractor bag has never been easy. With so many options in the market, many people buy stuff that doesn't have durability or strength. So, this article focuses on helping you with selecting the perfect contractor bags-. 
However, before we learn about how to choose a contractor bag, let us try and understand what this actually is. Let's read on…
A
woven contractor bag
is used for heavy-duty lifting and
hauling
. It is designed to take a beating; let you carry up to 50 lbs of stuff without breaking a sweat. It can be used for various purposes. You can use it as a gym, grocery shopping, overnight/traveling bag, or even as a small backpack. It allows you to carry your stuff in style and still provides you with all the convenience you require.
A
contractor bag
is sturdy and will last longer. They are versatile in nature so you can use them for multiple purposes without feeling like you have to
buy an extra bag
. Good quality material will ensure it stays intact even if it encounters rough use. There are different types of closures for your requirement.
Now that you know what it is, let us look at how to choose the perfect bag for yourself:
1. Strength 
It's important that these
bags
are
strong
because you'll be using them for maximum load and they have to withstand that. But along with strength, keep in mind the weight too. These are not designed to help you in every way; they provide you with carrying capacity. If it can hold 50 lbs of stuff but is very heavy on its own, it's no use buying it. Look for a perfect combination of weight and strength so that it will serve you as long as possible without being too heavy on its own. Strength is usually determined by its thickness. The thicker a
bag
is, the stronger it is. So if you want it to be stronger, choose one that is thick.
2. Color
If you are an outdoor person, choosing a color won't be much of an issue because these bags get dirty pretty fast and can only be washed with cold water; colors tend to fade anyhow so there's no point trying to save your favorite color. Choose anything as long as it's not too bright or flimsy. If you are using the bag for indoor purposes, such as grocery shopping, try to avoid white because it gets dirty easily and also attracts dirt like crazy. Try something dark in color but not black because then you'll have a hard time finding stuff in your bag.
3. Size 
Size matters when it comes to these bags because there are different types available in the market depending upon how much stuff you want to carry or which purpose you need it for. It is important that if you buy a bigger sized one, then you fill it with stuff accordingly. If you want it to be used as a gym bag, then choose the right size because otherwise, it would just turn out to be useless for you.
4. Material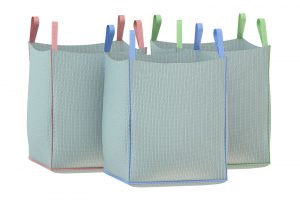 The material of your bag should be strong but lightweight also at the same time if possible so that carrying your stuff wouldn't feel like too much of a burden on its own. The best way to test this is to check how much it weighs in itself without any contents inside it; if it feels too heavy even after adding a few items, then try looking for something lighter. It's important that your contractor bags have good quality material otherwise they would just wear out very quickly.
5. Closure
It's important to have
bags
with a good closure because your stuff won't fall off as long as the closure is good. The flap should be strong enough to hold your stuff in securely otherwise you'll end up losing things all over it when it opens up or closes itself accidentally. A simple string or hook and loop closure will not work much for these because they are meant for much more rough use.
The traditional two-handle closure is perfect for heavy-duty lifting. It allows people to carry large weights easily. It also enables easy mobility.
6. Price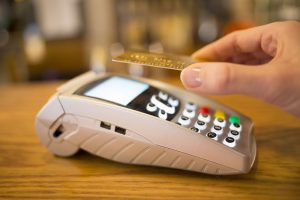 Price is an important factor to consider while buying any item; a contractor bag is no exception to it either. The more expensive bag will not necessarily be better than the cheaper ones so don't overspend on these. Do your research properly and check multiple options in this regard so that you end up getting a good deal for yourself. Before actually buying it, try checking its stitching for strength and overall material quality; if both are good then you'll know you've found the right place to buy your new construction bag from. 
Demo Bags® are among the most affordable options out there. They don't cost much yet provide the best quality. And, these are used by several  junk removal and cheap pickup and delivery services for their convenience.
7. Tear-Resistant
They should be
tear-resistant
because these
bags
are mostly used for rough purposes; they get dragged, pulled, and shoved often. It is important that you don't get holes in it easily because it would just turn out to be a waste of money if holes start appearing all over it after a few uses.
Demo Bags® are tear-resistant and can be used up to 4-5 times.
8. Water and Weatherproof
The
woven contractor bags
should be water and weatherproof because carrying your stuff in rough conditions means it will get wet sometimes. It is important that the bag retains its original shape even after getting wet. The most common material for manufacturing them is polyethylene or plastic which makes them
weather resistant
and perfect for carrying your stuff even when you're caught in the rain.
9. Recyclable
Another key aspect to look for is whether they are recyclable or not. It is important to know whether they will get wasted after a specific number of uses or if they can be recycled easily because all of these
molded plastic bags
cannot really be directly recycled, unlike
woven contractor bags
which could be used over and over again. An option that can be recycled protects the environment from pollution while you carry your stuff in a fresh and new way every time.
Demo Bags® are not only recyclable but are made up of 100% recycled plastic. This is the most environmentally friendly option in the market. Hands down!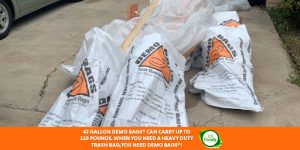 If you are into buying contractor bags often but have not tried Demo Bags® yet, then you're missing out on something special. These are among the thickest bags in the industry measuring up to 7 mil. And, its thickness makes it among the strongest and most durable. In fact, it can be used multiple times even in rough conditions. 
Here are a few more reasons why you should choose Demo Bags® over others; they:
holds up to 110 pounds

can be dragged up to 75′

saves your money

can tolerate nail punctures

are easy to be bought online and offline
So, do not waste your hard-earned money on bags that are not strong and durable. Just get your hands on the Demo Bags® today and do all your
junk removal
and
hauling tasks
with ease. 
Our social media platforms are an amazing way to learn about our products and services. Follow us on our social media and stay connected: Twitter, Instagram, Facebook.